#1 – Which KPIs can you immediately implement to boost your sales in 2021?
In this episode, Christophe Gérard, an undisputed expert in retail. Over 20 years ago, we started our professional career in the same legendary company: L'Oreal. For ten years, Christophe has held high responsibility positions, whether in Marketing or as Business Unit Manager.
In this episode, Christophe Gérard, an undisputed expert in retail. Over 20 years ago, we started our professional career in the same legendary company: L'Oreal. For ten years, Christophe has held high responsibility positions, whether in Marketing or as Business Unit Manager.
Rich in this experience, he joined the LVMH group as Retail Manager for Louis Vuitton and then worked for the Italian luxury ready-to-wear brand: Loro Piana.
Today, Entrepreneur, Retailer, and Client-Centric Business Solver, he draws on his many years of experience in these expert retail companies.
During our discussion, Christophe Gérard will share tips and best practices through the KPIs that will drive sales for the retailer this year.
Discover the five critical KPIs to implement immediately.
Take advantage of his two best practices to refine your performance.
Cherry on the cake, a bonus that will make you smile!
Post Scriptum :
Want to strike up a conversation with this expert?
Here is Christophe Gérard's linkedin.
Lien: Linkedin
Subscribe to our newsletter to receive our news and advice on data management for your business
Lien : Newsletter Inscription
What about you? Which topic(s) would you like to see in the next episodes of "dgenious, Let's talk retail."? We invite you to share your suggestions with us!
Lien : Share with us !
And if you enjoyed this moment, I invite you to let us know by leaving a five stars review or comment on the iTunes app.
See you soon!
Transcript:
Gaëlle Helsmoortel: Hello everyone and welcome to another episode of "dgenious, let's talk retail."
Today, I'm really excited to welcome Christophe Gerard. 
Hi Christophe, how are you?
Christophe Gérard: Very happy to be with you!
Gaëlle Helsmoortel: Thank you! I'm really happy that you accepted to do this interview with me, because of course you are an undisputed expert in retail, thanks to your more than 15 years of experience in retail expert companies like Louis Vuitton and Loro Piana. You will share with us in a few moments your tips and best practices in terms of KPIs, to boost the sales of any good retailer this year.
But there is another reason why I am particularly happy to share this episode with you and it is because, more than 20 years ago, we started our professional career, you and I, in the same mythical company which is L'Oreal.
After these 10 years spent at L'Oreal, I thought it was really funny to welcome you today. So, thank you for that already! 
After 10 years where you were in very high responsibility positions, and I am well placed to say it, whether in Marketing or in Key Account Management at L'Oreal, you joined the LVMH group. And if I'm not mistaken, as Retail Manager of all the Nordic countries for Louis Vuitton. So, my first question would be: what is a Retail Manager at Louis Vuitton?
Christophe Gérard: It's a very big word to designate a person responsible for managing a network of stores.
For the Nordic countries, it means being responsible for the country... And so, for the Nordic countries, 4 countries.
But for example, for Italy, which is a much larger country, where there are more than 19 stores for Louis Vuitton, it means being responsible for a part of the stores and therefore notably for the teams, the store manager, the development of the store or even the opening of new stores.
Gaëlle H: Right. And, in this context, you were in Scandinavia and then in Italy. What were your most important challenges as a Retail Manager at Louis Vuitton?
Christophe Gérard: Well, I'll make it simple, the challenge is to surprise and go beyond the customer's expectations.
Why go beyond the customer's expectations? In particular when you're in the luxury business, by creating this customer experience that we're talking about a lot right now. This is both to make the customer want to come back to us, and then to make sure that when the customer leaves the store, well, he is so delighted with what he has experienced that he speaks positively around him. It recruits new potential customers for the brand.
This is the most important challenge! It is to surprise and finally make the customer dream.
Gaëlle H: Okay, and very concretely, what did you do, or what did your teams do to achieve this objective? You know that my hobby is KPIs, it's data. 
So, were there any specific KPIs or typical data that you were tracking? And if so, did you have a particular way? Or how did you transform the data you had into concrete actions to achieve the challenge you just mentioned?
Christophe Gérard: Of course, when you manage a business, you have KPIs.
Louis Vuitton, which is a company that is particularly advanced in this area, has tried to reduce the number of KPIs.
I'm going to give you five, and then you tell me if you want to get to the heart of the matter or not. 
- The first one is the turnover, because that's what we're really here for. In terms of action, I don't want to give an action in relation to that. What we did was to follow the turnover on a daily basis, in real time. It's actually quite addictive when you start watching it constantly. It's the one you're going to watch the most often and finally, it's quite exciting. Especially to encourage the teams. That's more the action versus the turnover.
Why do I say that? Because the turnover is not the first goal. It's a consequence. It's a consequence if we've done our job well.
- That allows me to move on to the second. The second, in order, is the conversion rate. What is the conversion rate? It's between the number of people who enter a store, what we call traffic, and our ability to transform potential visitors into buyers. And this will give us a conversion rate.
This second point is a fundamental KPI. It is a KPI that will help us define the actions behind this KPI. 
If we realize that the conversion rate is a little too low, it's because we may not be able to welcome each visitor as we should. There are therefore consequences in terms of staffing, in terms of planning, in terms of the quality of the welcome and the handling of customers. This is probably the second KPI and the action linked to it. 
- The third is Cross Selling or Cross Categories. It comes into play once we have our customer in front of us and we have a good time together. What we try to do is differentiate, because someone who buys one product will buy two, but that's not necessarily the hardest part. The interest is to make him go to other categories. So that's a third fundamental KPI. If we realize that some stores are better than others on certain aspects, it's because we have better salespeople. So, we'll have them tell the others how they do it and how they manage to sell one product more than another. And also, in a more mechanical way, systematize product presentations. That's what cross-selling is all about, and it allows us to launch little internal challenges and to have nice little competitions between the teams, to see who finally manages to get the highest rate. 
- The next KPI is a KPI that is not yet very present, but which is coming up in most of the big brands. It's finally customer satisfaction, it's the voice of the customer. So, this is a bit more difficult to obtain. But when you have it, it is probably one of the most important KPIs. We finally ask the customer after his purchase, when he has left with the data we have captured (either an e-mail address or a telephone number), to give us his opinion on his experience with the salesperson he had in front of him. We receive these results and of course it is fundamental. Because it tells us exactly how the customer felt and obviously our ambition is to make sure that the customer felt more than good, the best possible. 
Yes, exactly, that he felt treated in a special way, with attention and an emotional relationship. Because as I said at the beginning, our most important challenge is this: to create an emotional bond with the customer. It's not directly about selling. A brand like Louis Vuitton is not directly focused on sales, it is focused on this emotional bond. And so, asking the customer's opinion sounds silly, but it's the best way to find out what they thought. And there are also actions behind it. If they are happy, then you can simply say thank you. Tell them you're really happy with the feedback they give you, that it gives you energy. The customer feels appreciated. And if they're not happy, then it's a mandatory call. As soon as we have a dissatisfied customer, the Store Manager himself has to call the customer to understand what happened. How can we satisfy them? This is a 4th KPI that is important. 
Gaëlle H: What I find particularly important, if I may say so, in what you say, is that it is not just to collect the voice of the customers, but it is especially to thank them if they are happy, and obviously what we do more spontaneously is to call if they are not happy. But I think it's important what you're saying, it's really necessary that it's via email, phone, but it's essential that there is always an answer and it's true that, yes tell me, ... 
Christophe Gérard: Exactly, it sounds silly, but these are the basics. Thanking someone for their time, for the time they took, for their presence, for their loyalty. It sounds silly, but it's important. Then there is the way to do it. Today, we don't send letters anymore for example. Personally, I'm a big fan of writing a note by hand. To send it on an elegantly written card. It's much more personalized than a text message, these are traditions that are being lost, but it makes a difference today. 
- I have one last one, it's the re-purchase rate, which again, is a consequence of all this. 
Because if our customer was happy, you can see it in the journey I'm taking. First is traffic, so conversion rate. With the second KPI, I have my customer inside, I sell him several products, it's the cross-selling. The third KPI is I ask him his opinion... Was he happy, that's the voice of the customer. And the fourth is finally the consequence of all this: it's the re-purchase rate. So, we can call it the rate of purchase, loyalty. It's a way to measure the loyalty of the customer. And here, same thing... We can also, if we realize that customers who came the previous year, did not come back this year, we can call them and try to see what happened. There are many possible actions to make a customer come back to the store. So, in summary, these are the 5 key KPIs that I identify, and that Louis Vuitton has identified as the main KPIs to drive a retail business. 
Gaëlle H: And I know, having discussed with you lately on this topic what the KPIs are for a company, for a retail organization, I know that you like the third KPI you mentioned, which was category selling or cross selling. As you said, it was the number of different items purchased per store visit. And I think it must be even more difficult for a brand like Louis Vuitton where the price is maybe more expensive per item to have this category selling KPI... Am I wrong? Is it also possible to increase the number of different items per visit?
Christophe Gérard: Yes, it's perfectly feasible. It's often a barrier that we put in place, because we are afraid, and we already say to ourselves: "this is a relatively expensive product and therefore I'm not going to encourage... But in fact, you should not see it like that. It's a barrier that the salesperson puts up. But in the end, for the customer, (and the way you have to look at it) it is a service. It is a service for which the customer is valued. We spend a moment with him/her. Normally people don't come to a luxury store every month. They are happy to be treated well. Personally, by talking to the person, if I get to know him, I know what his tastes are, I know what he likes, ... If I have asked her the right questions, normally I have discovered some little information about her and it is a service that I do her to say: "Well, you told me about your husband's birthday... Well, I think that we have a product that has just come in and that corresponds quite well to what you have just told me! I'm going to present it to you etc..."  Finally, we become a stylist, an advisor on different categories. Often the person feels relatively flattered that we thought of them and that we didn't feel limited to serving them what they asked for. And this is what we expect from a more luxurious customer experience: that we go beyond the customer's expectations, as I said at the beginning. And even that we discover potentially hidden expectations and in fact we often have very nice surprises. 
Gaëlle H: Yes, as you said, we thank a person, or we ask him why it didn't go well. And there, as you also very well said, there is the listening to the customer, where as soon as he passes the door of the store, there is information like my husband's birthday, which potentially, as you say, can be used in a very positive way and shows that we have listened to our customer.
Listen, thank you very much! I think that we already have 5 KPIs that are very relevant and based on that, whether it's Louis Vuitton or maybe Loro Piana...I may not have said it yet for those who don't know Loro Piana, it's a chain of Italian luxury clothing stores, which is everywhere in the world. Me, I have to admit that I was surprised, going on the website, to see all the stores they had, or luxury stores they had around the world. Especially in everything that is cashmere ... but so whether it was at ... Tell me if I'm wrong Christophe...
Christophe Gérard: That's exactly it! It's an Italian brand that has belonged to the LVMH group for 6 years and whose specialty is cashmere. 
Gaëlle H: Based on the KPI's that you mentioned, whether at Louis Vuitton or Loro Piana, could you share with our listeners one or two best practices that you would have implemented following the analysis of these different KPI's? 
Christophe Gérard: With pleasure, there are many and they are not necessarily just mine. Indeed, I'm thinking in particular of Louis Vuitton, when I arrived, because it was something that didn't exist at the time. We set up a match to traffic. 
What does match to traffic mean? It means that we put together three elements: 
the traffic entering the store (measured either by hand with a small counter or with shoppertrak) 
the number of transactions,
the hourly presence of the staffing (the number of people present on the floor at the time and per hour in the store) ... 
When we have these three data together, we have extremely interesting information. We can see that at certain times the traffic is high, but the transactions are low. In this case, maybe something is going on, maybe we don't have the right level of staffing. Finally, it's something that will give us some indication. These are relatively complex cross-tabulations to do alone on Excel, but today, there are digital solutions that exist ... And I think that dgenious has one in particular... But we used to do it manually in Excel. And it is extremely powerful, because it allows us to better drive the vacations. Already month by month, see when to give vacations, the days of presence, we already see a lot of things. We can see that on Saturdays it is necessary for all the staff to be there. We see that on Sundays we have a very high traffic but that they buy less, because the customers are not the same for example. So, these are elements that stand out in this type of chart. And above all the daily presence, how to manage the breaks, how to start them, how to do them by half hour, how to do them from noon to 3 pm, ... How to manage the distribution of the hourly or daily staff on the shop floor in store. It was an extremely high opener for the Store Managers, because what they instinctively feel has been digitally implemented. 
This allows them to challenge certain beliefs. Because sometimes they think that they are not staffed enough and in fact with this kind of tool we can show quite easily that this is not always the case. The staff is there, but we don't really know where they are, we don't really know what they are doing. 
Match traffic was a great tool that we implemented in Italy when I arrived. 
At Loro Piana, I talked about it. What we did at Loro Piana when I arrived was to launch a tool, but that was a company project, to launch this tool to represent the voice of the customers. To ask them for their opinions, which are particularly important for a brand like Loro Piana.  
The match traffic is a little less important, because the traffic is less important than for a store like Louis Vuitton. For Louis Vuitton, we had real problems with people having to wait in front of the stores and that for a luxury brand, is not always very qualitative. 
Loro Piana does not have this kind of problem. Loro Piana has a much more discreet brand strategy, very little media presence and therefore a brand strategy based mainly on word of mouth. This means that customer feedback is fundamental. They are the ones who, when they leave the store, tell their friends where they went what they experienced and whether they were extremely happy or moderately happy with the experience. This feedback tool was fundamental in ensuring that our customers would ultimately be our own influencers. 
Gaëlle H: Listen, it's really interesting, so I thank you for sharing all this with us and it's true that what I wanted to say about the example you gave about Louis Vuitton is that I also notice that our clients are using more and more this link between sales, traffic, attendance and staffing. So I think that this is indeed something very important. And what I also find very interesting is to see different branding strategies that can be just as effective. Whether it's more discreet like word of mouth or a little more present. 
So, you've been a Retail Manager. You've also had positions as Country Manager, ... I imagine that the way you analyzed these different KPIs was the same, or were there others that you followed as a country manager? 
Christophe Gérard: Well, actually no! There are no particular changes. The danger is to wander. There is an annoying tendency, especially when companies grow, to create more and more dashboards, to see more and more KPIs, especially created by very competent people who create their own analysis tables to justify their work. But that can create complexity, it can create process and it can create slowness. So, actually, no. My point of view has always been that ultimately the secret lies in aligning a company around the same KPIs. One of the things we tried to do was to make sure that the 4-5 KPIs I mentioned are common to all departments, but finance, marketing, IT share these KPIs in their evaluations. So everyone is aligned around one goal. What was complex at the beginning was to decide which KPIs to keep in mind and to make them common to all. 
Gaëlle H: Yes, the famous focus or less is more. But indeed, alignment is important. 
So, you've already shared your 5 KPIs and 2 of the best practices you've implemented. 
Is there anything else you would like to add to conclude? Well, I think it's already quite complete... You have been very relevant, but I don't know if you would like to share one more thing with our listeners today?
Christophe Gérard: Listen, I would say 2 things. 
What we do and what we work for is ultimately to build customer loyalty because otherwise it's a short-term strategy. So, one key KPI is obviously the re-purchase rate. 
The other key KPI is the conversion rate. It's our ability to welcome people who come through the door. If they walk through the door of our store, we've already done a lot of the work. We can't miss them. And finally, I'll add one last KPI that you won't be able to measure with dgenious, and that's the smile. 
Today, it seems silly to say thank you, it is something simple, but not always easy. A customer who smiles when leaving the store is a customer who is won... And the good news about smiling is that it's communicative. If the staff smiles, the customer will smile. In the end, it's not that difficult. 
Gaëlle H: It's very nice and well the interview is not recorded on video, but otherwise everyone could see that just by hearing you, well, I smile too. 
Thank you for that, thank you very much Christophe, because it was really very nice and very relevant. I know that you have a consulting business in retail. I will put your link on my website for the listeners who would like to have your opinion on one or the other thing. 
Christophe Gérard: Thank you, with great pleasure. 
Gaëlle H: Thanks a lot Christophe and see you soon.
Christophe Gérard: Thank you Gaëlle, see you soon.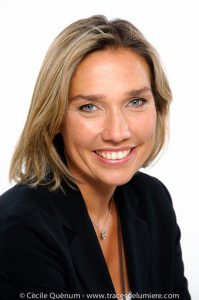 I'm Gaëlle Helsmoortel, CEO of dgenious. I work every day with my team to enable retailers to boost their performance through quick and easy access to their data.
With Let's talk retail, I welcome my guests around specific and varied themes that will offer listeners the opportunity to take action in their own business immediately.
#2 – Why you should adopt a modern, operational and accessible data strategy for your distribution network. , with Yves Colinet
You'll understand why every company needs to seize the digital transformation as soon as possible.
Listen next podcast