Review#1 : Why is the digitization of your entire network fundamental?
For this episode number 7, I offer you a slightly different format.
This time, I am alone behind the microphone to share with you a review of the previous six episodes. 

- I will review and highlight the strategies and concepts that you must absolutely remember and apply right now in your retail. 
- I will also take the opportunity to draw a parallel with the evolution of dgenious
For this episode number 7, I offer you a slightly different format.
🎙This time, I am alone behind the microphone to share with you a review of the previous six episodes.

I will review and highlight the strategies and concepts that you must absolutely remember and apply right now in your retail.

I will also take the opportunity to draw a parallel with the evolution of dgenious by presenting the following 3 points:
How is dgenious doing today,
What are our internal goals,
A few key insights you need to know.
Many of you are already listening to us to: 👉 refine the retail strategy of your business or franchise network, 👉 get inspired by my expert guests in one of the areas of modern retail, and it's an absolute pleasure! 🎉

Thank you for joining us in the adventure of "dgenious, Let's Talk Retail."

👌Be sure to listen to the episode to the end, as I have a little surprise in store to celebrate the success of the first few episodes of this podcast, which prepares many more relevant and super challenging episodes.

🎧 Enjoy the episode!
Post Scriptum :
 Subscribe to our newsletter to receive our news and advice on data management for your business.
Lien : Newsletter Inscription
What about you?  Which topic(s) would you like to see in the next episodes of "dgenious, Let's talk retail."? We invite you to share your suggestions with us! 
Lien : Share with us !
And if you enjoyed this moment, I invite you to let us know by leaving a five stars review or comment on the iTunes app.
See you soon!
Transcript:
00:00:09
Gaëlle Helsmoortel: Welcome to Dgenious, Let's Talk Retail, the podcast that shares tips and best practices from key players in the retail and franchise industries. Each episode is a conversation with an inspiring person or an expert in one of the key areas of modern retail. My name is Gaëlle Helsmoortel. I'm the CEO of Dgenious and I work every day with my team to enable retailers to boost their business through easy access to their data. If you're not afraid of new ideas and want to have a great time. This podcast is for you. 
00:00:39
Gaëlle Helsmoortel: Hello everyone and welcome to another episode of the Dgenious podcast, Let's Talk Retail. Today is the seventh episode and it's an episode that will be different. Why? Because I don't have a guest with me. I don't have an expert. Today, I'm alone behind the microphone with you. 
Why am I offering you a different format today? Because as I said, this is the seventh episode. We've had six very interesting guests. I thought the content was very interesting and I thought it was worthwhile to do a review of the key points that were said. Or at least, what I found particularly interesting and relevant during these discussions. 
I'm going to do this in conjunction with "where are we with dgenious today? Where are we going?" and give some key numbers in relation to dgenious. I think it's also important for you to have some insight into what we're doing, where we're going and how we're doing it. 
I'd like to start with a question I get asked a lot, which is why did you start a retail podcast? I must admit that I was, and still am, always surprised when people ask this question because it seems obvious to me that our goal, my goal, is to bring value. Sharing experience with retailers. Of course, with dgenious, that's our main goal through our platform. 
So, as you know, we are a real-time business monitoring platform that connects directly to what I call the most crucial moment for you, which is when the customer pays. Because it is at this moment that a whole series of very interesting data are collected and to which you often have very difficult access and certainly not immediately. 
So, we allow you to use this data, to play with this data to have the very detailed analysis you need to manage your business. Obviously, our goal is to bring you value, whether it's a time saving, whether it's obviously an impact on your operating account and bottom-line in particular. Of course, the objective is to bring value, but personally, I think that we have a responsibility to bring you a value that is different, that is even greater, that is a sharing of experience, meetings, even if you are not in direct contact with these people. I think that's the thing that's really interesting, that's really important. 
And my goal is to create a community, the biggest retailer community, which I call enthusiastic and exciting retailers. I decided to do the same thing for dgenious, to do a bit of an evaluation of where we were, what we had achieved, what we still need to achieve. Of course, I also asked all our customers, our users. I don't have all the answers yet. So, the answer is coming little by little. So, I'll tell you more when I have them all.
What I think is important to say first is that today, we have a milestone that is important, we have almost 3,500 daily users of our platform in five countries. So, for me, this is the most important metric in terms of the number of people who, on a daily basis, via their iPhone and iPad, via their desktop, go to our platform to consult key analyses themselves, to make analyses according to their daily lives. So, that's really for me, the number of people that every day use our solution, that's one element. The other thing that I find really important and beautiful, I almost want to say, is that in these 3,500 users, the profiles are very varied. It goes from the CEO to the store manager, and of course to the franchisees and the financial marketing department. So, there is a profile, a very varied type of profile, of the type of person who uses. And I think that's fantastic. Why is that? Because we are no longer, and this is Yves Collinet, who was in the first episode of this podcast, and I really invite you to go and listen to him again - and I'm wrong, it's not the first one, it's the second one, so excuse me - it's the second episode of the podcast and he was actually explaining that he was still, he worked 30 years in Delta, so adapting it had obviously evolved enormously and that today, what was very important, and what, I dare say, we do at dgenious, is that we have the ability, thanks to the technology behind it, to connect directly to what I call the most important moment for you, the most crucial moment for you, the moment when your customers pay you, the money time, as the Americans say. So, we connect at that moment and all the data that is generated from the moment there is a transaction made by a customer, whether it is online in a large physical store, we have this capacity to transfer, if I may say so, to make all this data available to you in a simple, easy way, so that you can see all the information. And that's what's a big difference compared to X years ago in data where there was really... you had to really compile all this data, put it in big data warehouses, in big data leagues, then pass it through consultants via IT consultants to have reports.
Obviously, there's always going to be consultants and BI consultants, and I think that's important, but I think those people can be used and have a lot more value to you than doing quote-unquote reports. I think today, doing reports is something that can be totally automated, that can be simplified so that really these BI consultants and IT consultants, other IT department, are doing things that are of much greater value, added value for others, for your business. 
And by the way, a little anecdote because I often think about it. I worked for 13 years at L'Oreal - as many of you know - and my first brand manager, her name is Brigitte Decartes, she can hear us, I hope, As I said, I say hello to her. So, she was my brand manager, I was a young product manager and already at that time, and you will see, it has not changed. It hasn't changed much, we all got data, we had to do a lot of things on our own and it was complicated. It was very time consuming. I remember her saying, "Oh, I dream of having all the data in a mega table like that. Then I can do what I want and work the way I want". In fact, that's what we did in a very graphic way and in a much more modern way than her data in a table, obviously. It doesn't have anything to do with it anymore, but the concept is behind it. The concept is that when you're in business, regardless of your department, whether it's finance, marketing, franchisee management, etc., you're going to be able to do it. But when you have a business to develop, you need to have this autonomy in front of these data and this is what dgenious promises you and this is what Yves Collinet explains, this change and this change of evolution and how can we bring you this ease, this automation and this simplicity? So, here is to come back to the 3,500 users, whose profiles are very varied. For me, this is very important. The objective was that even a store manager, who may not have had the proper training to analyze data, can easily access data to make the operational decisions he or she needs to make.
In fact, I feel like naming the phrase, Dennys Larrieu gave. He was my guest on episode 3 of this podcast. So, Dennys Larrieu, he's the CEO of Jeff de Bruges. I also really invite you to listen to this episode again because Dennys explained to us how he brought his entire network on board with all the disparities in personalities, in life, that this can bring. How did he get his entire network on board to initiate and succeed in a digital transformation. So, that's why I'm talking about getting everyone on board, because I thought it was a beautiful term, very, very descriptive and very explicit when I said that you have to get everyone on board in the adventure. They have to be motivated, even if their life was not necessarily that way at the beginning. I really invite you to listen to his episode, it was episode 3. So, obviously, he did everything. Digitalization, Dennys Larrieu at Jeff de Bruges, we talk a lot about digitalization. It was very important in what he said, I thought that digital should be at the service of the DNA of his brand. I thought it was very important. You have to stay in the DNA of your brand. Customers need to be able to relate to it. You have to bring this experience to the customers, whether it is in store or online. And they told us, and I want to emphasize this, because I still have a lot of physical stores. Because I think that, as human beings, we also want to go to a point of sale from time to time. But obviously, the experience has to be there. We must not have huge queues. It has to be efficient or there has to be a real experience that you want to live. And there, for example, he shared with us metrics such as, out of ten web orders, between 6 and 7 were in click and collect. That is, the customer chose not to guide by courier, but to go to the store with a point. A very, very positive point, therefore.
So, there you have it, we also talked in episode 1 of this podcast to test with Christophe Gerard. So, for those who remember, for those who listened to it, Christophe Gérard was a director at Louis Vuitton and Loro Piana for about ten years, so a real life experience in luxury and he shared with us. He shared with us the five key KPIs that he was tracking or that Louis Vuitton had decided to track as the most important. And for me, what was very interesting about this episode of the podcast - I also invite you, of course, to go and listen to it because it was very pragmatic, very concrete, Christophe Girard is really an experienced man who explained all this in a very interesting and concrete way - I repeat, for me, what is important is that regardless of your sector, to talk about the luxury sector, regardless of the sector in which you evolve, I think it is important to have some key KPIs but that each one can be detailed in a very fine way, what does that mean? Let's say, for example, one of the KPIs you decide to track is the number of different items sold per city. Do you have a network of stores? I have few, many. Whether it's multiple countries or not. OK, let's say it's one country and you have the average number of different items sold per ticket. Okay, that gives you information, which is the basis, but it's obviously not nearly enough to really be able to turn that information into action, to boost your sales or to reach the goal that you've set for yourself because what do you have to do? You need to know. Okay, I'm paying for this. I have this number of different items sold. But what about per store? Compare? Compare the number of items per store. Compare them even by operator, by person who works in the store? Why do some sell more different items per ticket or other? Are there times of the day when there are differences? So, all these elements will allow you to see whether by store, by salesperson, by time of day, by period, as well as periods of time in the month, in the year and in relation to promotions. Does this number of items change when you have promotions? If so, on which products? Types of training? What types of categories? So, a KPI that's generated, I would say that one, the number of different items sold per ticket. You need to have the ability to break it down very finely to really get concrete, operational actions out of it. Another site that I didn't say, but I think it's really important, this type of KPI, whether it's number of different items sold per ticket, sold per transaction or whether it's any of them to compare between customers that you have identified and customers, you haven't identified because often there can be costly fees that can help you tailor what you're doing in relation to the customers identified. Particularly in this case, which is important and I'm bouncing off of that on episode 6.
So, in the last episode of this podcast, I had as a guest Alexis who is the CEO of the chain of stores Bio Färm. He also explained that it is thanks to a very detailed analysis that he was making their product categories evolve. He gave the example, that I found top, by saying yes, we are a chain of organic stores and we propose tomatoes in winter, the tomatoes are organic, but we propose them in tomatoes, we propose winter tomatoes and we analyze in a very detailed way how these behaviors evolve. Maybe because one day, our customers will be ready to stop having tomatoes in winter, even if they are organic. And that's what allows them this detailed analysis of their shelves by product category, by store, by region. They can obviously respond to the needs of their customers, they can follow the behavioral evolution of their customers and they have also succeeded so far in pushing the mass retail sector to evolve. And that too is something very important for Alexis, who is a passionate and deeply committed man. I really invite you to listen to his testimony and for him, it's also important because he is a niche player, but with significant success. And if he can make an impact, he can make things evolve and make sure that the mass market evolves too, well, it's all good. So here again, a very interesting testimony from Alexis. And here we go, I've been lucky enough to have a lot of committed guests on my podcast.
Of course, Salvatore Iannello, the CEO of Galler, also a long-distance sailor who has spent several years sailing around the world on his sailboat or backpack, and who has come back and is determined, who thinks that anything is possible. I think he is right, but that is possible when you put passion into it. And again, get the team on board. As Dennys Larrieu said, I think that we also have notions of teamwork to make sure that everyone is in the same boat to move forward. So here we are, we also had at least one person that I love, Albane Flamand, who talked to us about social listening, which was episode 4. Albane talked to us about social listening and the secret life that your brands can live of knowing how users consume your brands, say where they consume it, so the hidden life of brands. They can serve as a laboratory, as trends to see what is happening and also, potentially, obviously, react on the spot, or even anticipate possible problems. The part of social networks, therefore, there too, really, an interesting notion to take into account. Especially when, like you, you have many, many different product outlets. We don't know from source, in store, by store. It says a way, really a key to be able to do it. 
Well, here we go, we're coming to the end of this episode. Episode a little bit different. I hope you enjoyed it. I just want to finish up by giving you some statistics on our podcast. I think it's interesting. There are not many podcasts that share their results. We, here, for the first six episodes of the Dgenious podcast, Let's Talk Retail, we're averaging about 300 listeners. So, we've had that since the first episode, which was the third week of March if I'm not mistaken. So, a few interesting guests. I'll admit, I did benchmark a lot, but I think it's pretty good. We obviously have much higher ambitions. But here we are, so you know there are about 300 people, there are about 300 of you listening to this podcast and each of these episodes. So, here's the thing, I'd like to offer you a little gift as well. We wrote an ultimate dgenious guide, on how to implement collaborative initiatives that really drive results to download it, you can go to the dgenious.com website but I'll also put all the details in the video for this episode. So, there you go, thank you. Don't forget to put a comment on Apple, Podcasts or Spotify and very soon. Bye for now!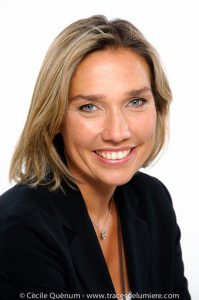 I'm Gaëlle Helsmoortel, CEO of dgenious. I work every day with my team to enable retailers to boost their performance through quick and easy access to their data.
With Let's talk retail, I welcome my guests around specific and varied themes that will offer listeners the opportunity to take action in their own business immediately.
#6 – As a niche retailer, how to succeed in the food retail sector? , with Alexis Descampe
Eating well and fairly: this is the credo that Alexis Descampe, co-founder and CEO at färm.coop, proposes to us!
Listen previous podcast
#8 – How to make your physical POS network coexist with your e-commerce? , with Julie Saverys
☕️ Coffee and success stories lovers, this podcast is for you! For this episode 8, we're going to dive into the world of the coffee brand Nespresso to learn more about: "How to make your physical POS network coexist with your e-commerce?"
Listen next podcast