#9 - How do you start a chain of shops from scratch?
There was no better guest than Olivier Olbrechts to address this topic. Founder and director of the Mister Genius company since February 2005, he has set up several physical shops in Belgium and offers remote assistance to individuals and companies. For the record, we have almost the same name! Even if Mister Genius and dgenious are not the same, I had to invite my namesake to this podcast! For this episode, I was curious to learn more about the evolution of Mister Genius.
There was no better guest than Olivier Olbrechts to address this topic.
Founder and director of the Mister Genius company since February 2005, he has set up several physical shops in Belgium and offers remote assistance to individuals and companies.
For the record, we have almost the same name! Even if Mister Genius and dgenious are not the same, I had to invite my namesake to this podcast!
For this episode, I was curious to learn more about the evolution of Mister Genius.
What was my guest's goal in creating this service company?
How did he develop his reputation to become an essential service in Belgium?
How is Mister Genius doing today, and what actions were put in place to overcome the crisis?
What are the objectives to be reached now, and what strategy is adopted today to compete with giants such as Cool Blue, Apple,… now well established in Belgium?
Finally, he will also explain the importance of his network of franchisees and how he managed to surround himself with managers whose involvement and motivation make Mister Genius a success.
Let's go for this new episode that tells you about the evolution of a 100% Belgian company whose ambitions now go beyond our borders.
Post Scriptum :
Want to strike up a conversation with this expert? Here is Olivier Olbrechts' Linkedin
 Subscribe to our newsletter to receive our news and advice on data management for your business.
Lien : Newsletter Inscription
What about you?  Which topic(s) would you like to see in the next episodes of "dgenious, Let's talk retail."? We invite you to share your suggestions with us! 
Lien : Share with us !
And if you enjoyed this moment, I invite you to let us know by leaving a five stars review or comment on the iTunes app.
See you soon!
Transcript:
00:00:01
Gaëlle Helsmoortel: Hello and welcome to another episode of Dgenious, Let's Talk Retail, my guest today is Olivier Olbrechts. Olivier, hello, how are you?
00:00:14
Olivier Olbrechts: Hi Gaëlle. It's going great, it's going great, business is picking up nicely at the end of the lockdown and we're having a great time.
00:00:25
Gaëlle Helsmoortel: Good, it's true that it was a complicated period for many. Maybe you'll tell us about it. Actually, you are the founder and the leader of Mister Genius since more than 16 years, I think, since February 2005. We have almost the same name, but it has nothing to do with that and it's not spelled the same way. So, your Genius and my Dgenious are not the same, but it's still pretty funny to have this kind of namesake. So, I had to invite you on this podcast, there was no other alternative. But what are you doing with Mister Genius? It's good, you have a chain of shops or stores - maybe you'll tell me what you prefer to call them - which does computer repair, telephone repair. There's a lot more than that too, you'll tell us. So, you have physical stores, but you also have a whole remote assistance, and you address mainly, not mainly, you address to individuals, but also a lot to companies. And what interests me in our discussion today is really how do you launch a chain of stores like yours from scratch, so from 0. So how did you do it? What was your goal at the beginning? And how do you do it today, with giants like coolblue, Apple, who might also do a little bit of that? How do you differentiate yourself and how do you stay niche and how do you keep your market share? So, that's what I'd like to discuss with you. And so, my first question is, how did you do it a little over 16 years ago? What were the objectives? What did you want to achieve? How did you create Mister Genius?
00:02:33
Olivier Olbrechts: Very well. First of all, thank you for inviting me here. I'm glad to be here and when you say 16 years old, it makes me feel a little bit older, I forgot it's been that long. I've had a long adventure already. We've been through a lot of different stages and entrepreneurial joys. And at the beginning, in fact, we started in the second-hand computer equipment that we sold on the Internet. And for a while, we had... It was going well, we had attracted quite a few partners, large companies for whom we resold second-hand equipment, computer equipment. And it turned out that at one point, as we were selling them on the Internet, we didn't have enough outlets on the Internet. So, we opened a first point of sale that sold second-hand equipment. And one thing leading to another, we realized that many customers also needed services. And it's true that in a world where people buy equipment either on the Internet or in supermarkets, the service side and human contact are somewhat lost. And so, we really positioned ourselves on that, on the intermediary who will offer service for all computers, all brands, specifically to small businesses and families.
00:04:06
Gaëlle Helsmoortel: Yes, it really started, the first idea was to sell second-hand hardware. If I understand correctly, you really went from a business model that was selling hardware to a service company. So today, you would qualify or define your business as a service business, mainly for small and medium-sized companies.
00:04:36
Olivier Olbrechts: That's right, that's right. In fact, we really knew how to listen to the customer and to the second-hand market in particular, who came to us for service. And quite quickly, we realized that there were also many small structures, independents, SMEs. I'm thinking in particular of our first professional customers, who were a building manager with three employees. We realized that all these small structures did not really have an appropriate service adapted to their size, since most IT service companies neglected this segment, or had difficulty providing it because of the way they are organized, and so the small structures did not really find an appropriate service. So, we're going to follow the market, we're going to focus on these small structures and today, unlike our competitors in the IT service sector, we want to continue to focus on this type of customer, small structures, not wanting to go into companies with more than 20 users because there are already people who do it very well and we really want to focus on these small structures for which there is a big demand, big need and not necessarily a lot of service offerings.
00:06:08
Gaëlle Helsmoortel: Yes, yes, absolutely. So, you really... How did you go about listening then, to your client? Did you have a magic recipe? Or was it that little by little, by listening to them, by listening to the demand that you made this switch or that you went from this hardware company to this service company, what did you do to listen to your customer?
00:06:34
Olivier Olbrechts: As far as hardware is concerned, we have always focused on very differentiating products, in particular second-hand equipment, and we have always assumed that for the customer, there were already a lot of structures that did a very good job of offering hardware. I'm thinking of large chains and Internet sites. Our advice has always been: if you want to buy hardware, go to the Internet, to the big retailers, don't take just anything, but we are here to install it. By necessity, we also supply a lot of equipment. But it's not at all. It's really because the client asks us, clients who have used our services and who say "can you advise me on the material? We have a high-end professional material offer that is suitable for everything that is available in stock at the supplier. So, the next day, it's delivered to us. So, it's not really a problem, but we supply it because we are asked to. The positioning has always been very service oriented, local service, when we want to open local stores, we really want to be neighborhood computer specialists, available for hardware or for repair in the point of sale, but also with a very local home or office help service. If you have an office on Avenue Louise, the technician will come from our office on Avenue Louise and will be very reactive. In addition, we have also set up a professional helpdesk for all our professional customers, which freelancers and small companies can call to have answers to their specific needs. Small assistances that do not exceed a quarter of an hour and for which we are also very reactive. Who will help? Troubleshooting for small blocking things that can happen on your PC. And it's very successful because today we have a 5-star rating from our customers on Google, which we are very proud of. So, we've really managed to make the complementarity between Helpdesk, stores and on-site assistance to offer the complete service for small structures and independents.
00:09:05
Gaëlle Helsmoortel: What was the most difficult thing at the beginning of Mister Genius and what was perhaps more difficult today?
00:09:16
Olivier Olbrechts: For me, the most difficult thing was that I love to create new things. Entrepreneurship was more difficult to focus on one particular segment. Today, we're really focused on small businesses. It's always hard not to go all over the place, but we've gone through a lot of stages that are second-hand sales, subcontracting for large groups, the circular economy, the economy of functionality and so launched quite a few projects as well. We have quite important ambitions in terms of growth in the number of stores. We have sometimes put the cart before the horse. Well, that's a good way of doing business for me. Now, we really have an offer that is very well adapted for independents, and we are showing that we really have a great added value in this area. Nice success stories with our clients and we would like to capitalize on this competence and offer our services to all these small structures that really need it. What's interesting is that in a very important market, freelancers and small companies, it's a very big part of the business market in Belgium, but there are few competitors who will exploit it or offer something. The reason is that our positioning with agencies allows us to bring clients to the agency and offer them services from there, to the point of starting their collaboration from what is not obvious for someone who would have an office accessible in a city in Belgium. Offices that are open, you just push the door, and you enter a center that is an IT service center for small structures in which you have everything you need from the repair of your smartphone to services of visibility on the Internet, web marketing, through obviously basic infrastructure (email, backup, computer) we are really the technological partner for small structures more difficult.
00:11:45
Gaëlle Helsmoortel: At the time, it was to focus on this target. Today, is it still that? You still have a desire for something new. And it's still the most difficult to be focused on this target. Or are you compensating by offering new services for that target?
00:12:07
Olivier Olbrechts: Now, I already have a lot of work in that segment, in that target, in terms of entrepreneurship and innovation opportunities. So, we really try to be very rigorous in our service offering to meet the needs of this target group as much as possible. You have to know that freelancers were a target. They have smaller budgets, so we have to be very rigorous about everything we offer so that it suits the customers and is sufficiently profitable for us. So, we're doing well, meaning that we're going to be very rigorous about the contracts we offer, the technologies we offer and that we make sure that everything we do is really well adapted and that it really suits the customers. By playing on a relatively standard side each time, but at the same time finding the right balance between standardization and customization.
00:13:19
Gaëlle Helsmoortel: You are not alone, I guess, in doing this. And you are obviously saying what seems logical to me. It's going to be complicated to do this alone. And you have teams. How do you surround yourself to get this done?
00:13:37
Olivier Olbrechts: We are a team of about 30 people with a very strong responsibility on the managers. Managers who are very independent, who participate very strongly in the development of the company and who are very autonomous, who are really in front of the customers. The advantage, when you enter a program, is that you deal directly with the person who will follow up on the repair. Everything is done locally, in a local service. And so, yes, we have a team of thirty people, mainly young people with a passion for technology who have various skills and who we will train to serve our customers.
00:14:28
Gaëlle Helsmoortel: There are a lot of responsibilities, testimonials on the managers, as you say, because they are, yes, the first person or the first contacts with the customers.
00:14:40
Olivier Olbrechts: Yes, it is the managers who are close to the contact. It's the managers who kind of run the company as well. They are the ones who are in contact with the market, with the customer. They're the ones who can give feedback to the market and allow us in marketing or support functions to be as responsive as possible to the customer.
00:15:02
Gaëlle Helsmoortel: Have you made yourself known, because there are a lot of French people listening to us and I don't think you are still in France. I think that you are mainly in Belgium. Mister Genius is very well known in Belgium, how did you get known? How did you get known in relation to the medium-sized companies and freelancers that you talked about?
00:15:32
Olivier Olbrechts: Well, thank you. I think we're known, but I think there's still a lot of potential for awareness and we're working on that every day. We worked with a lot of different media. At the beginning, we worked a lot with all the boxes, with La Presse. We had a lot of articles in La Presse not so long ago, we made quite a buzz on TV, on the national channels and on all the regional channels in Wallonia. Now, more and more, we work in Web only in digital only, with a lot of referencing, we are very gifted in referencing. Lately, we are exploiting a lot the local campaigns of Google, which are very adapted for the retail, and which work well. And so, we really focus on digital, digital referencing, which means that for the moment, we are still very local in Belgium, we do not yet have any notoriety elsewhere. We didn't want to develop it elsewhere. We still have some work to do in Belgium before developing in other countries such as France, Switzerland and the French-speaking market, which can be quite promising. Given our digital positioning.
00:16:56
Gaëlle Helsmoortel: Ok, so you mainly do Google ads then? Paid search too and organic?
00:17:07
Olivier Olbrechts: Google Ads, Natural a lot and Google My Business too, which works very well.
00:17:17
Gaëlle Helsmoortel: And that's all done in-house. So, do you have a marketing team or do you have a marketing person that does that?
00:17:23
Olivier Olbrechts: Well, I see that SEO is a bit of a hobby for me, so I take care of a lot myself. Now I have an internal marketing manager, I have a marketing manager and we have different virtual teams. We work a lot offshore with freelancers in Madagascar, we have people who really bring a very precise competence in the field. It works very well.
00:17:57
Gaëlle Helsmoortel: OK, so, for the moment, no international objective for the evolution of your channel. If you go back 16 years, are you where you want to be today and what are your plans for the next years with Mister Genius?
00:18:23
Olivier Olbrechts: I'm very happy with the evolution so far. You can always go a little bit faster, but that's just part of the evolution of everyone. And now, I have the impression that we have found a really good axis of development and that I still have a lot of potential. So, I still have a lot of ambition for Mister Genius and a lot of possibilities for personal development for me and for the people who work with me, because there are still a lot of innovative things to do for the customer service. So, still a lot of energy and a lot of projects for Mister Genius, both in existing services, the growth of our points of sale and the opening of new points of sale, the development of new services for our independent customers and small companies.
00:19:28
Gaëlle Helsmoortel: We'll follow that then. And among these last sixteen years, what were the best surprises that you didn't expect? You see, the maturity of DVDs is not a surprise, something that you didn't anticipate or imagine, and they came.
00:19:50
Olivier Olbrechts: What I like most about the development of Mister Genius is the collaborations of the young people we hire, really the exchanges with young people who start with us. We often work with young people who don't have a very thorough training, so we train a lot internally, we are really a team of enthusiasts. What fascinates me the most is the interaction, the evolution of each person, the guys for whom this is sometimes their first job or who become emancipated because they are doing well. I've seen them grow, develop, choose their voice a little bit, even within Mister Genius. I've got two young people starting out as apprentices in training, on work-study, people starting out as apprentices and finding their way. A lot of success, a lot of merit. That's what, that's what I find the most fun. We are the team, we evolve together. Everyone can give opportunities for amateur development and that everyone is considered on their merit, on their personal talent in their work.
00:21:13
Gaëlle Helsmoortel: That's very, very interesting. When I asked you the question earlier, "what is the most difficult thing?" I must admit that I thought you were going to talk to me about staff recruitment. We know that these are the types of profiles that are not necessarily easy to find, I think. But you, the way you manage it, is to take, as you explained very well, apprentices and to make them evolve and train them, maybe with more senior people within Mister Genius, then to motivate them and train them. I find that really interesting. And if you had some advice to give because we have a lot of people who listen to us and who want to grow their channels, or even want to start their own channel? What advice would you give them? Any advice or recommendations you would give to people who are going to start up?
00:22:25
Olivier Olbrechts: What you need to find, hopefully sooner than I do, is a clear focus and to get into a lane and develop it continuously, with perseverance, not to spread yourself too thin. The second thing, I think it's often the case for structures in Belgium, is to think bigger and not to have too many limits in terms of borders. In Belgium, we have a mentality where, I find, often in any case, it is certainly my case, to see too small. We start with Paris, then we watch it evolve. And sixteen years later, we are still not out of Wallonia, and it works. I think I can be ambitious. By having a good focus and investing are very strong in a specific focus. I believe that we can grow faster and have an international level faster. There are many things to do. I think that in terms of pace, we are in a sector that is a little less sexy than before. So, I think there are a lot of opportunities too. A lot of young people today want to go into start-ups, into more sexy areas. Retail is complicated in many areas. Competition from e-commerce. There are still areas such as service where there are few players and where there are a lot of opportunities.
00:24:07
Gaëlle Helsmoortel: Okay, so you think that retail is even less sexy than before?
00:24:13
Olivier Olbrechts: Let's say that today, when we see all the business that goes to Amazon or to a lot of sites that are more and more successful, children, clients, consumers, I think that yes, there is a figure that will make business. And you have to, you have to either really adapt your way of working or focus on things that e-commerce or the big chains can't offer.
00:24:50
Gaëlle Helsmoortel: Yes, absolutely, OK. Great listening Olivier, thank you very much for taking some time to do this discussion and to have this exchange with me. So, thank you. And very soon with pleasure.
00:25:10
Olivier Olbrechts: Thank you very much for having me. Very flattered to be among your speakers and see you soon! Thank you Gaëlle.
00:25:18
Gaëlle Helsmoortel: With pleasure, see you soon.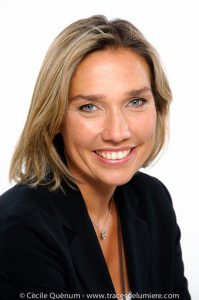 I'm Gaëlle Helsmoortel, CEO of dgenious. I work every day with my team to enable retailers to boost their performance through quick and easy access to their data.
With Let's talk retail, I welcome my guests around specific and varied themes that will offer listeners the opportunity to take action in their own business immediately.
#8 – How to make your physical POS network coexist with your e-commerce? , with Julie Saverys
☕️ Coffee and success stories lovers, this podcast is for you! For this episode 8, we're going to dive into the world of the coffee brand Nespresso to learn more about: "How to make your physical POS network coexist with your e-commerce?"
Listen previous podcast
#10 – How to successfully collaborate between IT and business departments in your retail chain? , with Serge Ernst
Until now, I have mainly invited and discussed with retail experts, such as marketers, salespeople, CEOs... I was particularly keen to hear an IT expert's voice, expertise, and opinion this time!
Listen next podcast