#10 - How to successfully collaborate between IT and business departments in your retail chain?
Until now, I have mainly invited and discussed with retail experts, such as marketers, salespeople, CEOs... I was particularly keen to hear an IT expert's voice, expertise, and opinion this time! As you have undoubtedly experienced in your business, the collaboration between business departments and IT is not always easy. I wanted to discuss this point with Serge Ernst, IT Director of the Swiss Group Eldora, active in the catering industry, to shed some light on this.
Our podcast "dgenious, let's talk retail" is back in full swing!
Until now, I have mainly invited and discussed with retail experts, such as marketers, salespeople, CEOs… I was particularly keen to hear an IT expert's voice, expertise, and opinion this time!
As you have undoubtedly experienced in your business, the collaboration between business departments and IT is not always easy.
When I talk to my clients, I have the feeling that the final objectives are the same in terms of the development and growth of the company, but it's the short-term objectives and the means used that are the problem. They are not necessarily aligned between the different departments.
Do you share this same feeling?
I wanted to discuss this point with Serge Ernst, IT Director of the Swiss group Eldora, active in the catering industry, to shed some light on this.
👉 On the programme for this episode:
What is the role of an IT department in a retail chain?
Find out what is the biggest challenge for an IT director today?
How does Serge Ernst see the future of IT departments?
He also shares with you his business drivers for successful business development!
Let's go for this first episode of the season, which I wanted to be precise and instructive while taking a captivating look at the role of IT.
Eldora currently works with 290 restaurants in the corporate, health and education sectors.
🎧 Enjoy your listening!
Post Scriptum :
Want to strike up a conversation with this expert? Here is Serge Ernst' Linkedin
 Subscribe to our newsletter to receive our news and advice on data management for your business.
Lien : Newsletter Inscription
What about you?  Which topic(s) would you like to see in the next episodes of "dgenious, Let's talk retail."? We invite you to share your suggestions with us! 
Lien : Share with us !
And if you enjoyed this moment, I invite you to let us know by leaving a five stars review or comment on the iTunes app.
See you soon!
Transcript:
00:00:09
Gaëlle Helsmoortel: Welcome to Dgenious, Let's Talk Retail, the podcast that shares tips and best practices from key players in the retail and franchise industry. Each episode is a conversation with an inspiring person or an expert in one of the key areas of modern retail. My name is Gaëlle Helsmoortel, I'm the CEO of Dgenious and I work every day with my team to enable retailers to boost their business through easy access to their data. If you're not afraid of new ideas and want to have a good time, this podcast is for you.
00:00:40
Gaëlle Helsmoortel: Hello and welcome to another episode of the Dgenious podcast, Let's Talk Retail. So, until now, I have mainly invited and discussed with retail experts, marketers, sales, CEOs, and today, I particularly wanted to hear the voice, expertise, and of course the opinion of an expert but IT in retail. Why? Because, as we know, the collaboration between business departments and IT is not always obvious, because even if the final objectives are the development and the growth of the company, I think that the short-term objectives and the means to achieve them are not necessarily aligned between the different departments. I think that's a point to discuss because it affects a lot of you. And to discuss it, I have invited Serge Ernst. Hi Serge. How are you doing?
00:01:47
Serge Ernst: Hello Gaëlle, thank you for this invitation. I am doing very well with the return of the sun. Finally!
00:01:55
Gaëlle Helsmoortel: That's right. It's true that we haven't been spoiled these last weeks. But now it's getting better. So, Serge, you are the IT director of the Eldora group, so Eldora is a very important group in Switzerland which is active in the catering business. So, in fact, you'll correct me if I'm talking nonsense, but there are 285 restaurants in the corporate sector, in the health sector, such as hospitals, and in the education sector. So, that's the Eldora Group. And you, before you joined the Eldora group which was, I think, a very small year ago, you have over 20 years of experience in retail. So, in the early 2000s, you joined an optical chain where there were about 70 points of sale, where you ensured the digitalization of this chain if I'm not mistaken. And then you joined a health group where there were three pharmacy chains for almost 400 points of sale if I'm not mistaken, I really think that with you, we will have an eye and an expert opinion on IT in retail. Thank you very much for being here. I'll let you complete if I said something about you or about Eldora that wasn't quite right. And I'll ask you the first question based on this great experience you have: what is the role of an IT department in a retail chain?
00:03:46
Serge Ernst: Yes, so, to quickly go back to the introduction, I actually had experience in the business part in relation to these different channels, essentially. At the beginning, in the area called ERP with verticalization of the business. And then that, basically, in business consulting roles. To answer your first question for the IT department in an organization, it still has their mission. This also corresponds to the organization we currently have in the Eldora group. Of course, there are all the aspects that concern the infrastructure. This is the foundation that must be put in place to ensure operational functioning. So, we're going to talk about interruption and availability of this type of element. Today, it is with these aspects that I am going to develop my point of view by the most interesting part, the very important added value. Basically, what you have to remember from this part is, ideally, of course, to have a uniform park. In our case, typically with the payment solutions. And then in some organizations that can be described as chain that have sales processes that seem to be a little more complex at times. We will also find business verticalization on the points of sale. It also must have a uniform fleet, quite quickly, in an obvious way. The steering of this chain and the centralization of data. This is where I have a lot of experience, whether in the optical sector, the pharmaceutical sector or in other service-oriented companies. The second part is, from my point of view, much more interesting, it's of course indicative, with what we call business analysts in French or a little more official. I find it very interesting when they are attached to the IT department, with a good recognition and the confidence of the business lines, rather central business lines, such as finance, HR, operations, purchasing, quality and so on. In this context, we have a role to play in implementing solutions that are of course appropriate for the chain, and this may be a little trivial when you put it like that, but the aim is of course for the chain to achieve better results than those that would be achieved by the sites individually. So, the famous 1 + 1 = 3 rule that we sometimes use here, it's more like 10 plus 10, which is more than 20, more like 25, I guess. This is where I think we'll find, that we'll be able to exploit the full strength of a chain. Concretely, from this theory to reality, what does that mean? What do we have to put in place? So, we will work on optimizing the organization. Centralization and standardization of tools. We will talk about developing solutions with a strong integration to ensure performance. There, we will have possibilities in a chain to finance evolutions or integrations of solutions which would not be possible on a site. This makes it very interesting. Then, in a second phase, we can exploit features that really have the potential of the chain to bring added value to customers and of course, particularly through solutions such as Dgenious, take advantage of the volume of data available to adapt individual communication and guide strategic decisions. So, in an organization, we will realize that the ability to implement solutions that I call chain, closely related to what I call the level of maturity of the organization in the company that is generally conveyed by the leadership functions. What is interesting is to discuss a little bit the different factors of steering the business drivers. We will have to or be able to take into account...
00:08:44
Gaëlle Helsmoortel: Maybe, before you actually mention the business drivers. Just maybe - two things that I find really interesting in what you explain. It's really the role of IT in a chain store. It's to put things in place so that 1+1 equals 10. That is to say, I find it very interesting and very reassuring that IT says, here we are, our role is really to put in place tools and solutions so that, in the end, each store has much more than if it were alone. That each franchisee or manager generates much more value than if they were alone. So, I think that's really very positive. Maybe we'll see what the business drivers are and how you can implement this? And the second thing that I find interesting is that one chain of stores is not the same as another and that the level of maturity is not the same. And I think it's also interesting that you put it forward that each thing must be done, maybe also little by little, and I imagine that this maturity is not acquired quickly or immediately, that there are steps to follow.
00:10:20
Serge Ernst: So, I would say that maturity is strongly influenced by the management's will. And then, of course, the initial situation is ultimately made up of chains of experiences, chains that were acquired through growth, that is to say, where someone, ultimately, started with one site, created a second site, a third site, a fourth site. So, it's clear when you acquire a good level of maturity fairly quickly, because it's also a desire that corresponds well to the business. I've known other contexts where this was done through subsequent acquisitions, meaning that we already had a chain model with a certain number of sales outlets. At some point, we buy what we have qualified as a competitor, which we then have to integrate into this organization. This operation is usually a lot of work here, since we have tools that are not uniform. We have different cultures. This is a much more complicated exercise and, in the end, at a given moment, we have to decide whether to take solution A or solution B. There is always a winner and a loser. It's much more difficult to conduct, you need a very strong direction. In my experience, at some point, it involves a replacement of solutions, with a whole deployment process that takes time, that is heavy to carry out and that is consequential to finally bring about this notion of uniformity across the entire fleet.
00:12:02
Gaëlle Helsmoortel: Yes, you wanted to talk to us about business drivers. You wanted to talk to us about business drivers to be able to implement this centralization, which is, according to you, and I think you're right, one of the factors of success. Would you like to tell us more about them now? Is it interesting?
00:12:29
Serge Ernst: Yes, I'm very happy to do so. I call these business drivers in relation to the experience, to the exploitation that can be done afterwards, in the whole chain. First of all, really, it's the boss, it's the central point. For some people, that would be pushing open doors a bit, I hope. New information, it's the article repository. Why is that? Because the article repository is going to be at the heart of all transactions. We're going to talk about analysis. When we talk about statistics, we talk about margins, we talk about inventory, we talk about purchases, we talk about inter-site exchanges, we always have to know what we are talking about. In the end, what we are talking about is basically a product that we want and that must be univocally identified throughout the entire structure. If there were only one driver to retain, it would obviously be this one, from my point of view. Now, we have sectors of activity that are very, very varied. If we are in the field of industry or health, it will be quite easy to find a reference because the field is already oriented according to this kind of concept. In my current experience in the catering industry, we are talking about food purchasing. Some products are clearly identified and others, when you buy a slice of steak, each supplier has its own identification. They are not the same products, they don't have quite the same proposition they don't have the same origin. That's where, that's something that is, of course, difficult, but it's really something that should always be in the focus. As a second point, I would put the central purchasing, so that just to finally go up to the headquarters level, maybe where all these aspects of purchasing policies. Why? Because if you want to have good margins to buy at the right price, absolutely. So, it also allows us to offer commercial opportunities with mass purchasing campaigns and in our different points of sale and to control the suppliers globally for this purchasing policy. Thirdly, I would put the commercial policy, i.e. with the choice of assortments. What types of sales outlets? What kind of promotion do I ensure, i.e. promotions per site, that a customer who goes to different points of sale has different promotions or prices in front of him? Loyalty programs and partnerships? The commercial policy, then, there are really a lot of possibilities. Then, of course, there is the customer reference base. Whether we are in a sector with identified sales, simply, we have had anonymous sales. Having a centralized customer repository with customer activity across the chain also offers many opportunities to then develop communication and loyalty around this information. And then, ultimately, it's all along the way. It's the integration of the financial aspects to integrate the accounting aspects related to the activity of the point of sale at the head office. Here, we will also find, in relation to what we were discussing earlier, the maturity of a chain. We will see with experience that the drivers that can be put in place depend strongly on the maturity of the chain. In a weak chain, I think that it is always important to work on the centralized file, we can obviously set up unified business rules, a customer repository if necessary, but it may be difficult to go as far as centralizing purchases because the chain is not ready to simply handle this operation in a strong chain. We have all the drivers that will be implemented centrally, including what I would call the central purchasing unit, the accounting integration of processes and then we will have all the resources that are optimized for a chain.
00:17:33
Gaëlle Helsmoortel: Perfect, so we'll keep in mind that even in chain stores or brands with a low IT or digital maturity, the centralized item file is important. Unified business rules. I love that. I love to hear an IT manager talk about business; I think it's great. Thank you for that. And you talk about customers too. So, a unified customer repository. So great. Thank you, and now you've given us a very thorough description. When I hear you, I think, there's work to be done, right? It can't be easy. It requires, I imagine, a lot of prioritizations, for an IT director, and communication with the business teams. But to implement all this, what do you think is the biggest challenge for an IT director today?
00:18:47
Serge Ernst: The challenges are numerous, but of course, we are confronted with permanent demands, permanent expectations, from the different people in the organization who also have missions to make the model profitable and evolve. Nevertheless, whatever the cost at the time, it is a real role to maintain a standard. We realize, especially with experiences, that we must reintegrate sites or reintegrate the tools that were implemented, sometimes in an artisanal way, it is this extremely laborious recovery, it is costly and risky, difficult to control. Our role is to make the organization understand that the work must be structured and thought out within the standard framework. So, of course, the business is not ready to hear this, because in general it wants to implement a new business action immediately, and when we tell it, it is not supported by the solution that a new version may be needed. We'll have to do a development, we'll have to deploy this development after a battery of tests. The functionality may be available in three or four months. It's not the best way to build sympathy in the company, but that's not our role. Our role is to move the channel forward in a consistent way. That's where, I think, sometimes you have to get the organization used to anticipating and planning a little bit in advance and the evolutions. And then, like everyone else, we have budgets, we have resources. In general, these elements are available on the table, because they have already been allocated, so at some point, our role is to provide information on the activities that we are carrying out, that we have planned. We have integrated a roadmap and it is not always up to us, from my point of view, to prioritize these elements. Moreover, we must ensure that we provide this information to the departments, which must then make this trade-off. Yes, it's simple, but it's still what we have to keep in mind.
00:21:50
Gaëlle Helsmoortel: Exactly.
00:21:51
Serge Ernst: And to finish on this point, I remain, from my experience, a fervent supporter of a very centrally driven chain, because it then gives the chain a strength to exploit its potential in an optimal way.
00:22:16
Gaëlle Helsmoortel: And then, I imagine that it is centralized, obviously, at the level of the solutions to have a... here to be more optimal to allow us to realize what we were saying at the beginning, that 1+1 is not equal to 2, but equal to 10. But it is a centralization which, I imagine, also allows the trades to have a certain flexibility. Because I recognize myself quite well when you said: when sales or marketing people come with a new promotion and we can't support it, they're not happy. I myself, 15 or 20 years ago, when I was marketing director at L'Oréal, sometimes had heated discussions with the IT department. And then, well, I always tried to find alternative solutions. But how do you deal with that? Because if you have a marketing director like me in front of you who says, "oh yes, but no, there is a turnover to be generated", I have a turnover objective. I need to know exactly how to follow up on my promotions or implement this promotion. So how do you manage that kind of relationship and conversation?
00:23:51
Serge Ernst: We are not in opposition to the business. We are there to accompany the profession, and it is true, with the right solutions. It's when they come to us with a request that we have to take the step of saying yes, but this is a one-time action, how can we finally integrate it into something that we can pilot in order to, perhaps later on, in a slightly different context, there is a configuration of the solution, quickly implement it, that is to say, we don't have to develop. Our role is to develop the user's direct request, but to take it into consideration in a slightly more global way to enable us to pilot our infrastructure. And then, later, in the context of another need, simply, there is a new configuration that will then be deployed on all the sites, or even benefit from it overnight, since the solution already allows it to be integrated. So, of course, this can sometimes lead to solutions that are a bit complex, since behind the configuration trees, you must master this configuration in order to integrate it into the entire sales process in general. But that's where our role consists of approaching the business and getting them to verbalize the different sales promotion contexts, for example, they would like to be able to know once, they will have a promotion based on percentage, a promotion based on impact or a promotion that is based on a voucher, there you go. It's endless. That's where we really need to do this analysis with them to bring a solution that is global, configurable, in an easy way, and that can then be used in different contexts without needing to go through us somewhere to give them also eventually, some autonomy.
00:26:13
Gaëlle Helsmoortel: Yes, I like that a lot. Obviously, it's really co-creation. If we can say like that, it's really to have someone that you have with your IT team, a role of, I don't know if we can call it consultant or advisor or co-creators, to actually make it more optimal. I really like what you describe when you say that we place ourselves with them next to you. Indeed, and that's certain that the business or the salespeople, it's not always the anticipation that is their strong point. It's actually to help them with that. So, I find that... a great mentality, a great thing to implement. So, we know that everything IT, technology has evolved a lot in the last 20 years, in the last three years and will certainly evolve again. How do you see the future of an IT department? What do you... What are the things that you would say to our listeners and say "well, these are the things that I think we should be looking at in the future"?
00:27:41
Serge Ernst: The IT department is a link in the organization of tasks, the importance it has taken in the efficient functioning of any company make it a key factor of success today. We also see it daily, it can become a failure factor if it does not ensure its mission, for example, to protect the infrastructure, start to have vulnerabilities. I think to deploy this activity properly and it's, first of all, a question of legitimacy.
00:28:17
Gaëlle Helsmoortel: Legitimacy?
00:28:19
Serge Ernst: Yes, that means we see companies with very different organizations. It's always interesting to see whether there is an IT department, where it is attached. I have seen several times... I've been confronted several times with external content organizations where we had, for example, the few IT positions that were typically attached to the financial director. Those are certainly historical organizations that have no place today. I've rarely seen CFOs who are competent in the direct IT domain, to speak a little bit directly. So, you see it through the organization. We also see it through the resources that are there and that have this role that we mentioned earlier. Supporting the profession is not simply being there, saying that it is not possible, etc. How often do we hear the business justify an impossibility by saying it's because of IT? We've all heard it, we've all experienced it. It's not always correct. So, it's simply a matter of developing our business and our relationship within the company so that we are no longer considered as a burden, a load center, but as being truly value-added services. So, in this added value, we will find, from my point of view, a continuity. We are in an environment with permanent mutations, rapid obsolescence, we have telework organization models that are sometimes extremely rapid. So, it's somewhere this mix between the coherence of our activity and in a certain continuity, associated with a flexibility that allows us to adapt quickly to this changing world. But at some point, it's important to share our vision with the other departments and to give them a medium-term horizon for our evolution, whether it's four or five years, we must also, as a company, at some point, ask ourselves some questions. Now, it's not always easyd
00:32:25
Gaëlle Helsmoortel: Yes, we come back to... well, I think it's really great what you're saying, it's very comforting, I think, for people in the business to hear an IT director say these kinds of words and we also come back to what we call soft skills. So it's still up to the IT department or the IT director to have the ability to communicate, to be open, to share, to inform. And that's what ultimately makes the success, it's that as you say you share your vision, that you are also open to new things and indeed, to associate with the right partners.
00:33:12
Serge Ernst: So, we are talking about the support of the profession. Yes, you do have this support. It's a bit like two worlds that have to dialogue at some point, we have a business that has a need that it expresses in a digital form we'll say, not very binary in general, he comes, he has his need and he says, "in Excel I do like this, I copy and paste, but why can't we do that with your solution?" and we have to make sure that we understand this need. And then to have the knowledge of our solutions to imagine a good integration. And then, we can put in a given moment, we can put in all the tools we want. We can formalize the business request, we can do Agile development, we can share a mandate. We can do everything. In fact, for me, it is finally what we call the consultant's soft skills that generally ensure success, and this is valid beyond what we are discussing here, from my point of view. We all know the key success factors, we have project methods, we have a lot of tools at our disposal, but in the end, with a bit of hindsight, we realize that it is the team that ensures success, the team through its business skills, of course, through its knowledge, its skills, but also through its ability to communicate, to dialogue, to exchange, to find the right solutions together. This is what I call soft skills.
00:35:10
Gaëlle Helsmoortel: Well, that's a very nice speech, Serge. Thank you, thank you very much and usually in my podcasts I don't ask questions about Dgenious because that's not the objective, but here I'm going to allow myself to do so, in relation to what you're saying, in relation to this centralization that you're talking about, in relation to having your good partners... you use Dgenious at Eldora. How does our solution, then, fit in with what you just said and maybe complement the other solutions you have, maybe in a short way? How do you view Dgenious within the Eldora group?
00:35:57
Serge Ernst: In our application environment, as you mentioned, we have about 290 establishments in the field of collective catering, with a virtually uniform fleet, with two exceptions, in terms of payment systems. Of course, we have tools in place to centralize a certain amount of information and to interact. We will say with our management solution, so our ERP at the head office level, but we use the Dgenious solution because in our case, it allows us to centralize the details of all the transactions, of the cash systems of all our points of sale in a single database. So, first of all, there is this function of concentration and federation of all our sales data. Why Dgenious? Because in our case, it was also this extraction in concentration with other solutions at the time. It was often a failure. With Dgenious, it was extremely easy. It's a very stable and efficient solution in our case. And then, for this part that we sometimes call ETL, like BI hubs, it works in our case in an almost transparent, efficient way. From there, of course, we have all the possibilities of exploiting this data, using the interface, configuring a certain number of reports. And there too, there is this ease of implementation. We will find tools on the market that are much more, I won't say simpler, sorry, that are more complete, not in terms of rendering capabilities or even data transformation or aggregation, or whatever. I've been through several of them, and in the end, these are projects that are very difficult to carry out because they are solutions that are so complex to implement that you need internal specialists to master them. And every time the business asks for a new report, we are practically in a development process where we have to produce a whole analysis and then agree and understand. And yes, but here I am adding up like this, etc. and then, it is relatively complicated. with Dgenious for our operation, I consider that it is very well adapted since quickly, almost anyone is able to produce a report in a simple way. So, we have reports, let's say operational. They are targeted by the organization, they are stable, but as it is relatively simple and quick to implement. Sometimes, we have ad hoc requests. We just need, for example, information at a given moment and we don't hesitate to use the solution to produce an ad hoc report that we won't keep. But since the implementation is simple, fast and inexpensive, we will use this solution rather than going through a database directly. I don't know, it's really these two notions. On the one hand, this concentration with this process of extraction transformation in our case of loading and this ease, then, understanding, exploitation of data.
00:39:58
Gaëlle Helsmoortel: So, it also meets your needs and what you were saying at the beginning, about centralization of standards because for you, it's one of the solutions in your portfolio of solutions, I would say, that meets the objectives that you want to completely implement. Perfect, great, thank you. If there's something you want to add, something we haven't covered and you think it might be interesting for our listeners to have your input, I don't know. We've already got a lot.
00:40:37
Serge Ernst: Yes, I think we have already developed the different aspects, the different aspects of Business Driver, its aspects of maturity of a chain of IT roles. I'm lucky enough to have had this experience, to have been active for a long time as a consultant or as a project manager in companies. So, it's clear that this gives this services orientation. It may not always be found in all IT organizations. I find that it is also the model that, afterwards in-house, which is the activity that I deploy today, remains important.
00:41:21
Gaëlle Helsmoortel: A big thank you because it's not always easy to have a technical speech, but to make it understandable and popularized, it's not always obvious, but here, I think you succeeded with flying colors. So, thank you for trusting me and agreeing to participate in this podcast episode. And very soon.
00:41:48
Serge Ernst: Thank you as well. Have a great day everyone.
00:41:52
Gaëlle Helsmoortel: Thank you all for watching this new episode of Dgenious, Let's Talk Retail. The full transcript of this interview is now available on our website dgenious.com in French, but also in English. And I'm also putting the direct link to the transcript in the bio of this episode. I'm looking forward to seeing you in two weeks for a new topic and a new guest of Dgenious, Let's Talk Retail, and until then, develop your business well, Ciao.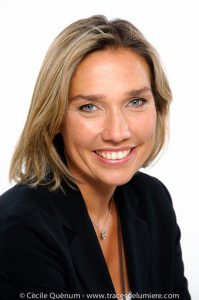 I'm Gaëlle Helsmoortel, CEO of dgenious. I work every day with my team to enable retailers to boost their performance through quick and easy access to their data.
With Let's talk retail, I welcome my guests around specific and varied themes that will offer listeners the opportunity to take action in their own business immediately.
#9 – How do you start a chain of shops from scratch? , with Olivier Olbrechts
There was no better guest than Olivier Olbrechts to address this topic.Founder and director of the Mister Genius company since February 2005, he has set up several physical shops in Belgium and offers remote assistance to individuals and companies.
Listen previous podcast
#11 – Growing your chain stores through the integration of external investors: a fatality? , with Corinne Dumont
In this episode #11, I have the chance to discuss with Corinne Dumont a subject that is not obvious and that we don't necessarily dare to talk about: the integration of external investors to ensure the growth of one's business!"
Listen next podcast