#11 - Growing your chain stores through the integration of external investors: a fatality?
In this episode #11, I have the chance to discuss with Corinne Dumont a subject that is not obvious and that we don't necessarily dare to talk about: the integration of external investors to ensure the growth of one's business!" After a long career in the banking sector in corporate finance, she decided to go into the organic industry by buying the Sequoia chain stores. You will discover Corinne Dumont's feedback and advice through the key moments of her project's growth.
🎧 In this episode #11, I have the chance to discuss with Corinne Dumont a subject that is not obvious and that we don't necessarily dare to talk about: "the integration of external investors to ensure the growth of one's business!"
After a long career in the banking sector in corporate finance, she decided to go into the organic industry by buying the Sequoia chain of stores.
A decision taken out of deep personal conviction and a need to take care of one's health through food.
At the time, there was a real gap in the organic market, Corinne Dumont wanted to fill it, and the takeover of the 3 Sequoia shops seemed perfect for this!
A real success, as the chain stores has today about fifteen outlets in Belgium.
Recently, Sequoia also bought the Belgian outlets of the Bio C'Bon brand.
You will discover Corinne Dumont's feedback and advice through the key moments of her project's growth.
👉 Together we will go through the following topics:
How to buy a business even if you don't have all the resources.
She chose to open up the capital by looking for external investors while keeping control of her project.
How to accept the evolution of your business because you need to find investors.
The preparation and management of his exit.
His advice for future entrepreneurs whose ambition is to take over existing chain stores.
I take you on board with me for a passionate conversation marked by an intense and authentic entrepreneurial experience.
🎧 Enjoy your listening!
Postscript:
Today, Corinne Dumont is using all this expertise and experience to help other entrepreneurs achieve growth.
Want to strike up a conversation with this expert? Here is Corinne Dumont's Linkedin
 Subscribe to our newsletter to receive our news and advice on data management for your business.
Lien : Newsletter Inscription
What about you?  Which topic(s) would you like to see in the next episodes of "dgenious, Let's talk retail."? We invite you to share your suggestions with us! 
Lien : Share with us !
And if you enjoyed this moment, I invite you to let us know by leaving a five stars review or comment on the iTunes app.
See you soon!
Transcript:
00:00:00
Gaëlle Helsmoortel: Hello and welcome to another episode of the Dgenious podcast, Let's Talk Retail. So today, I have the great pleasure of having as a guest and being able to chat with Corinne Dumont. Hi Corinne, how are you?
00:00:15
Corinne Dumont: Hello Gaëlle. I'm doing very well and thank you very much for this opportunity. I'm very excited about it.
00:00:23
Gaëlle Helsmoortel: I'm very pleased, but I must admit that I'm also very excited because maybe just to situate you and to let our listeners know who you are, you are the co-founder of the Sequoia chain of organic stores. You co-founded it, you'll tell us more about it in a moment, but you co-founded this chain in 2007. So today, what is it? It's about 15 outlets. We have a lot of French listeners, so it might be interesting to say that it was also Sequoia that bought the Bio C'Bon outlets a few months ago. So, here is a chain of organic stores that, since 2007, has acquired a nice growth. And what interests me is to discuss with you. Today, as we know, when a chain of stores, when a company evolves, there are different phases. At a certain point, with your co-founders, you made the choice to open up the capital and to open it to outside investors. And what I'm really interested in is to discuss why, what was easy and then certainly not so easy, and to really have your expertise, your experience on this positive or negative fatality, perhaps to open its capital and integrate outside investors. So, there you have it, and now I come to my first question, which is perhaps to explain to us the "why", in 2007, of the launch of this chain of organic stores and then perhaps to follow up with "at what point did you feel the opportunity or the need to bring in outside investors in your capital"?
00:02:24
Corinne Dumont: OK, thank you very much Gaëlle for this question. In fact, I really like to talk about the why. Because for me, as an entrepreneur, the why of founding a project has a lot of meaning. And so, I would like to go back a little bit before 2007. Of course, because this project was really born from an inner passion and a deep conviction about natural health. And so, it's linked to a personal journey and also linked to the fact that I was already buying in organic stores at the time in relation to my health, and I had noticed that there was a gap in the market, namely that I had to run to 36,000 different stores to get what I wanted and so the intuition came to me, and it's really an intuition, an inner inspiration "oh, I'm going to start Sequoia again". Well, it wasn't for sale. I've told this story several times, I'll mention it briefly. It wasn't for sale. So, all this to say that in fact, there were already two stores, two mini-markets in Brussels. And yes, that was already doing more or less 5 million in turnover at the time. And I came from the banking sector. In fact, I had a background in corporate finance, so I was involved in structuring international financial operations, etc. Obviously, this background gave me the opportunity to work in the banking sector. Obviously, this background helped me a lot because when I had this intuition "I have to take over Sequoia", I said to myself it's impossible, how are you going to do it? I had some funds behind me, of course, I had some inner resources, obviously, my skills, my experience, etc. And so, I had this kind of confidence that I could do it. And so, I had this kind of inner conviction, I saw this gap in the market and that I was going to fill it. And so, my first step was to tell myself that it was impossible. I don't have the money, at least, or I don't even want to put all my money into it. So, I went to the founder and said look, are you ready to sell? It scared me anyway and he said no at first and then finally, after a lot of meetings, etc., he said yes, we're ready to sell. He said yes, we set a price. This price was astronomical for me. At the time, I was always thinking how am I going to finance it? And so, I already, at that time, I made the choice to say no, I'm not going to put all my eggs in one basket and I'm going to look for partners too because as a woman coming from the field of banking, where I worked like crazy, I didn't want to live that experience anymore and so I wanted to be able to share the responsibilities. And so, I sought out my first co-partner, who is Brigitte Bruildings, and we went through a whole journey together. We went to Whole Foods in the U.S., which was our inspirational model, and we helped... We actually had a vision: what did we want this project to look like? She immediately said yes. I was so convinced that I was convincing, that's it. And so, in short, we went through a whole process. And then we realized that we were short of money. And as there was also my brother-in-law Vincent Meul, who was in professional transition and who was available and who had complementary skills to ours. So, we took him on board a little later and let's just say that we negotiated. Brigitte and I basically negotiated the purchase of Sequoia with the founder, who was a pioneer himself. So, it's about... all that to say that it's about a, with already a fund raising, with three partners, so Vincent, Brigitte and me, and bank funds. In fact, we borrowed the rest to be able to finance the acquisition. And at the time, we also structured it with a part of the seller's credit, so money that we would later pay to the other founders. It was the first big fundraising, where we had both equity and bank debt, and then we had a common vision, etc. And so, three years later, in 2010, after reorganizing the company a little bit to be able to lay the foundations for growth, I really had quite a few contacts in the financial sector and so we brought in and negotiated the entry of Eurefi in the capital to be able to open the Waterloo store, which was ours. Our new flagship, if you will, which was at the time, so in 2010, the market at that time does not exist. Not at all. In fact, since we have French friends, there are even French people, I won't name them, Natureo, instead of being inspired by our Delhaize concept, came to Waterloo to be inspired by our concept. We really wanted to break the codes of the time, which were, let's say, rather sectarian and bobo. We wanted to do something with a local concept, contemporary thread, etc. And also with departments which were not at all organized, like the large distribution and the philosophy behind it. It was basically: organic food should not be boring, it's healthy, yes, but it should remain tasteful and that's it. Waterloo opened in 2010, with quite a few setbacks at the beginning. Because even if there were already two stores where you could get your hands on and understand the ins and outs, the opening of Waterloo was suddenly double the size of the other two stores. It was a whole other set of challenges and so on. So, we had a learning curve that lasted three years and I must admit that I was quite worried at times, because we were making bigger and bigger losses. We had lost more than the capital and that's a lot. But I'm a financial person and there was team management, so we had a lot of ups and downs. I would say the model in all directions to finally arrive at a business model with Waterloo. And there are a lot of experts who told me you have to ... well, we had a central hub with central services to service the three stores, he says it's too cumbersome, you have to remove that because you're making losses. I never wanted to remove that because I was convinced, given the small lantern that we had to keep. So here we are in 2010, the second major fundraising, essentially capital, about a little over a million euros. Yes, we financed quite a few new store openings, obviously, with debt and therefore internal cash flow. Okay, so what about all that? To your question, yes, in our case, I made the choice of growth with capital raising because we were generating cash flow with the existing stores, but from the moment we made the big investment, so Waterloo, which is capital intensive. These are assets and staff, even though it was going to produce cash flow, we had to have funds for this investment and there was no way, and I would do it again like this today, there was no way for me to find other solutions. I'm very creative in finance, but yeah, a way to find alternatives to doing this, it makes sense from a finance and corporate finance perspective.
00:10:48
Gaëlle Helsmoortel: Okay, yes, because it's true that one of my questions was, were there any other choices? But you answered it for yourself and as you say, you came from the financial field, you had connections and you had this financial knowledge that must have been fundamental at that time. So, it's still today, in your opinion, the best choice? Was that the best recipe?
00:11:16
Corinne Dumont: Yes, it was the best choice. However, your question brings up another element, that's it. We would have had the choice of choosing either financial investors or what we call an industrialist, that is to say someone who is in the same sector. And at the time, we explored both options, that's it, with lots of elements that came into play. How much were they willing to put in? At what valuation? What was their long-term view then? Were they going to be agreeable or disagreeable partners, enforceable to impose their views, etc.? Well, we don't do all that until we're in it, but we didn't rush into it by default either. We took the time we needed to try to get to know the people, etc. And so, in the end, we chose Eurefi because we felt that Eurefi was going to be aligned with our desire for long-term growth and also that it was going to give us our rightful place and therefore play their role in a way that is not micro management and is sufficiently supportive. So, it's really a balance and a happy medium, a fair balance. So, I think they've been a great partner for all these years.
00:12:49
Gaëlle Helsmoortel: They are still. They're still part of the capital of Sequoia today?
00:12:53
Corinne Dumont: Yes. For the moment, yes. And actually, we have a very, very diversified capital, not especially in the Diversity sense. But yes, it is diversified in terms of the number of shareholders. There are both financiers, there's still the three of us, the three co-founders, and Eurefi is still in it. It just so happens that in 2018, Sequoia's growth, since we're talking about fundraising, we didn't really do any more fundraising between 2010 and 2018. Other than the bank statements. And I even did a selendis back transaction on a building to raise funds. So, you have to be creative too. Yes, you can mobilize your assets also to generate cash and you're not going to finance long-term assets, like real estate with cash flow that comes from short-term operations. Exactly. It's not sustainable, so that's also why I would do it again in the Sequoia model, I would always do fundraising again. I haven't changed. In 2018, we sold off a big chunk of it and so there are other investors that came in, mostly financial. Yes, a little rock and roll. It's a very busy time.
00:14:18
Gaëlle Helsmoortel: Yes, but I guess, to live fundraising as well, I understand that it is always a human and entrepreneurial experience. But I have to ask myself the following question: every time there is a fundraising, every time there are outside investors who join the capital, it is always a bit of a loss for the founders, the co-founders, for you, maybe a bit of the baby that has to be let go. How did you experience this? Maybe in 2010 or maybe in 2018? I'll let you answer that, but how did you experience the fact that it was, as you said, your project? You had a real philosophy; you had a real goal. It's not always obvious. I imagine that this initial objective was full of values and obviously, with a clear desire to make money. But when you have other people, as you say very well, you want smart money, that is to say, you try to have people with you who share these values to obviously have the growth objectives. But how did you experience this?
00:15:39
Corinne Dumont: The question, obviously, is very interesting because I'm going to say that I had two different experiences in 2010, so we're in a growth mindset. We're in the excitement of starting projects, even though we're already three years into the recovery, etc. So, we have a growth perspective, but when we brought Eurefi into the capital, as I said before, they were very much aligned with our way of thinking. In any case, when an investment fund enters the capital, there is always an exit that is planned. And besides, in any project, I always advise to have, to deal with the exit from the start. You know how you get in, you have to know how you get out. So, there was clearly an ideology behind this project. In addition, it is a realistic ideology because personally, I am someone who is very, very connected to causes, but on the other hand, it comes from my heart and my aspirations, my intuitions. On the other hand, I am also pragmatic, I am realistic, I am a financier. And here we are, things must be able to be realized in the matter. And what was done, since Sequoia was finally very fast, after these difficulties with Waterloo, was very profitable. And I think it is one of the most profitable chains in Belgium in the field of specialized organic. So, to come back to this question that you asked me, in 2010, so, it was great. No problem at all. The exit that was planned more or less... usually it's a milestone of 5 to 7 years, no problem. I said to myself anyway, I don't know, in 7 years, I might be very happy to make an exit, etc. And so, it was agreed, I'll make an exit. And that was the intention. So, you can make an exit and finally get back into the project at another level, etc, everything is possible. There's no point in anticipating 36,000 scenarios. I was quite happy with that. Where I was less happy was in 2018, so I actually burned out quite a bit as a CEO. At some point, I get pretty burned out. Well, that's a thing, there you go, it's workings and so on. I learned a lot from that. It's not the only thing. There are ways to do things differently. And so, I admit, I needed to feel supported, etc. So, at one point, there was a potential successor for my CEO role, but he was starting as COO. I needed to step back, really. And I left. And when I came back this summer, it was all over. This year, it was... here's the chaos. Not at all as a team, because I've been implementing collective intelligence since 2012. And the goal was precisely to make the teams autonomous, so the team can function without a boss. That doesn't mean that the boss abandons the ship, no. I had put a lot of energy into this team, etc. And so, when we decided in 2017 to make the exit, there was a time when we had to go... There was this passing of the torch which was extremely difficult because I felt thrown out. And that was quite disappointing. Unfortunately, I didn't feel supported by my partners. So that was an extremely difficult first step for me. So, it's not the exit as such, it's the way it was happening. And it was like, I'm saying what I felt, it was like everything I had built, tried to do, etc. was thrown away in 1:50 because I had, I had stepped back two months, and that was it. It's very important for a woman to take care of herself and her energy when she's complete, when she's managing projects, it's like top athletes. For me, the entrepreneur is all about that process. In 2018, we end up doing the deal, but so there I am contributing to the mess. But in fact, for me, we were dragging problems under the carpet and so, the exit in 2018, it was laborious and that, for me, in fact, often, when it happens in a very laborious way, it's that there is an underlying lack of trust between the different actors, whether it was within Sequoia or whether it was on the other side. Because on the other side, in my opinion, it's pretty rock'n'roll too. We put two systems together. There's a lack of trust. To me, trust in an organization is the glue that holds and explains the culture of the organization and makes that culture hold together and be resilient in moments of crisis, like we had in 2020. So, anyway, in 2018, we're going out. And here, since this is your question too, sorry, I'm a little long-winded but I'm passionate.
00:21:05
Gaëlle Helsmoortel: No, no worries. Yes, it's perfect.
00:21:10
Corinne Dumont: So there, honestly, I took it upon myself and it was very difficult because it's happening in confidence, because it was happening with very difficult dialogues for me. A lot of lack of transparency, unfortunately. And well, like with someone, at some point, I can take it upon myself, but I say things. I think that's not always appreciated. So that's it. And so, I had a hard time with it because I also felt like a scapegoat. Finally, in fact, in group intelligence, in social systems, when there is one who is a revealer of a problem, it can happen that the others throw arrows at him. That's how I felt. So, 2018 so far. I've grieved that relationship system. It's not about Sequoia per se. I felt like it could really be taken over by someone else. Well, it's true that he lost the original ideology, because for me, a company is always a reflection of its leader. That's how it is, so now we have someone who is more retail oriented. This is what I wanted for Sequoia as well. Because, as we grew, we had to become more professional in retail. Afterwards, well, I think that Sequoia has lost its initial focus. It was very hard too.
00:22:48
Gaëlle Helsmoortel: Yes, I guess, it's true that, as I said, you confirm what I thought, it's obviously a company and I think you can be proud of what Sequoia is still today because I think it's a great success and I think that, somewhere, we don't have the choice to change. There is no other way out than to change the evolution. It's change. But it's true that for the founder or the historical or almost historical co-founder, well, you have to accept these changes and it's not always easy. I imagine that your two other co-founders will also have experienced it, certainly, in their own way.
00:23:35
Corinne Dumont: Yes, in their own way, of course.
00:23:37
Gaëlle Helsmoortel: There you go. But when you look at it today from the outside. I mean, personally, I think it's a great success and I think you can be proud of it.
00:23:48
Corinne Dumont: Yes, yes, and so, what I'm saying here, is not at all to say... No, I'm very proud of what it is today. Frankly, there are also, I would say, the positive aspects. It is that it really inspired a lot of people in this bio which, at the time, all this did not exist. At the time, in 2010, there was no competition. Today, there are many new shoots that have sprouted. We had to create and I had to create the collaborator market. We could not find managers of organic stores, etc.. I had to create that from scratch. It didn't exist. So, when I saw the impact of Covid on the business last year and the, how do I put this, the resilience that came from the teams and the ability to bounce back and be agile. I thought that's great because I find that those are foundations that I brought and that have stayed with the organization. I think that's wonderful, of course.
00:24:55
Gaëlle Helsmoortel: And I think I said this in the intro, but you're still on the board, I think you still have a foot?
00:25:00
Corinne Dumont: I'm still a shareholder, but I decided not to be on the board anymore.
00:25:09
Gaëlle Helsmoortel: Oh yes, okay, but you are still a shareholder. So yes, it's because you believe in it too and that, despite the fact that the ideology may have changed or evolved, it's because there is still a market...
00:25:29
Corinne Dumont: Of course. In my opinion, it's still... well, it's a market that first of all is undergoing a huge consolidation and of course there's a lot of opportunities. And to be honest, I didn't want to continue my role as CEO either. So yes, I have to be honest about that. I never wanted to continue to manage all of the operations. It was becoming much too heavy for me and so at some point, you have to accept that it's going to change, but you have to be aware of your own choices as well and that's a decision I made as well. So, even if it's difficult, of course.
00:26:15
Gaëlle Helsmoortel: Yes, it's always difficult. But so you're kind of today, if I may say, in the third phase of your career where you had a big period in finance, in banking and then it was pure entrepreneurship, organic with Sequoia. And I think now you're using all that expertise and experience to help other entrepreneurs. That's what I think you're doing today.
00:26:44
Corinne Dumont: Exactly, so I actually coach other entrepreneurs. I have to admit that I have a little bit of a soft spot for women because I have... not at all because they don't measure up. Not at all.
00:26:58
Gaëlle Helsmoortel: No no, I didn't understand it that way.
00:27:02
Corinne Dumont: It's mostly because I think, well, I've contributed so much to male systems, and I get along very well with men. But I say to myself, I want to give back to women, as a woman, if I can bring my experience and accompany them in more visionary projects, because I think we need a... with all that has happened, I think we need innovation a lot and indeed, all this, how can I say. ... my Sequoia experience really made me realize one step further that well, I have intuitions, actually very, very, very fine and that I have to trust them and that, but that I would also like to pass on to women, it's to find the right balance between the left brain and the right brain. I would say because, especially as a woman, following our instincts and our gut feelings, to me, is more important and the left brain is going to come into the service. And so, I've heard a lot who says I listen to experts, who told me this and that yes, and they're not into it. And me, that's my thing, it's really saying here's how to go beyond the limits of the mind, our mental limits to deploy our potential through our project, our projects and create innovation for causes that matter.
00:28:29
Gaëlle Helsmoortel: Yes, I think that indeed, innovation has always been, but I think that innovation is... and daring to innovate, I think that's a key thing, and resilience, because I think that without resilience, it's hard to jump on the innovation that follows.
00:28:51
Corinne Dumont: Yes, and that requires taking risks because innovation means exploring the unknown and you have to dare to go there. And so, on what benchmarks can we base ourselves for that? Our intuition, our instincts, our feeling, what exactly? Then we can do market analysis. All this to confirm that, as Brigitte and I did at the end, we said: ah there are things that exist. We can hang on to that. We don't create something that exists either. There are needs.
00:29:25
Gaëlle Helsmoortel: Yeah, so that, I find also interesting. What you're saying is that, yes, there is a notion of intuition, of what we feel deep inside, but with a certain pragmatism. When you have spent 18 years, I think, in a large American bank, that means that when you have set up a chain like Sequoia, there is a real pragmatism and I think that one of the strengths is to combine this pragmatism with this intuition, as you say, which is more ideological.
00:30:07
Corinne Dumont: Yes, it's more ideological. And I would even say, it may sound a bit... but even following your dreams. In fact, it's more philosophical. We're here on this earth to have fun.
00:30:22
Gaëlle Helsmoortel: Oh, I agree, you have to take it lightly. You have to take life lightly. I agree, and with fun. But maybe for me. Finally, in relation to our different listeners who may be in the same situation as you were, whether it's 2007, 2010 or 2018, which is that they either want to take over a chain store or they've had a chain store but they're in a state where they're like what am I doing? What advice would you give them? This may be a bit of a broad question, but what advice would you give them to get through this stage and achieve growth? At least the one that is required at the time they are at right now?
00:31:12
Corinne Dumont: I think it's a little bit different if you're taking over a project or moving to a tier in an existing project. We're going in circles, so if it's in an existing project, taking a step up. For me, what is fundamental is to really take a step back because in general, when you have your nose to the grindstone, you don't realize it and then you lose. Sometimes the system gets out of control and you end up doing more of the same. But when we reach a growth level, I think that what I call a paradigm shift, we have to change something fundamental in the system and therefore we have to take a step back and analyze what it is. So that's really a pure analysis. And by taking this step back, I'm always someone who has explored things a lot externally because it gives me aspirations. So, it's really feeding your thoughts outside to be able to come back with your elements at the level of the strategy, the vision. Sometimes just to realign the vision, to realign, to completely reposition the company. As there is an entrepreneur that I accompanied, this is what she finally decided to do because her project had reached a plateau, it led to a complete rebranding. In fact, you can regenerate your project somewhere when you reach that plateau, as if it were a new project almost. By building on the good things and eliminating what is no longer useful. Yes, so after doing these analyses, it's to really weigh the pros and cons for fundraising. For me, basically, if you don't want to have any unpleasant surprises, so as an auditor, it's really to check the alignment and follow what you feel inside, which can be red flags, in fact, either it's not aligned at all, or just to check and ask questions, so that, yes. This alignment, especially for people who have the will to continue in their project. It's fundamental and it's not the alignment with the old version of the company, where it got to its growth plateau. But with the new version, obviously, of this "where do we want to go"? No, and that requires absolute clarity from you to yourself. As a manager or founder, you usually know what you don't want anymore, but rarely, or at least I don't always find it so clear what you want is to take over a restaurant project. I say to myself, here it is. From there, we can apply the same principle of seeing why I want to take over this project. How does it make sense for me and therefore for me, it's really already asking the right questions. Why do I want to do it? Okay, I'm going to take over the project just to make money and there's no right or wrong. And so, the rest will follow. I think it's again to be clear with yourself. What do I want for this? To talk to people? And then go and check out the market anyway? When is there really a need? Of course, but if it's an existing business, I find it interesting because you can reshape it and rebrand it. There are a lot of executives today who are 60 years old and older. I'm one of them, and they're fun to be around, but they've helped out and they want to sell their company. And they are going to retire. So, there's a lot of opportunity in the market to take over existing businesses and reshape them. So, it's quite interesting.
00:35:20
Gaëlle Helsmoortel: Yes, yes, it's true that we live in interesting times. Indeed, as you say, there are many, many opportunities and I would just like to emphasize what you said. Because having experienced it myself, I think it's very true. You said that when you bring in outside investors, ask questions, you said ask questions to make sure that the objectives are the same. I'm talking about values, but also values, be the same and I would go even further, what we did last year for our first fundraising, we even asked our candidate investors if we could have a conversation with another startup they had, that they were following and directly, they said yes. And then we had this conversation. And then that, that gives confidence too and that calms.
00:36:19
Corinne Dumont: That's right. That's a very good example. Another example. What I like to do is to test it with scenarios, but simple scenarios, where we submit a kind of problem and see. Here, I'll see how they'll react to this. It's not a trap, it's to say, well, faced with this situation, how will you approach it without going into confidential matters, etc.? But I find that it's actually like hiring candidates. It's like an interview.
00:36:50
Corinne Dumont: Exactly. I was going to tell you, it's recruitment.
00:36:55
Corinne Dumont: Yes, right. I'm bouncing off of that same thing because then I often think when you're raising money, you're like Oh my God! So that we can find the available funds and we put ourselves in a position of submission, if you can say quite a power relationship. But, no, I'm sorry as an entrepreneur, it's our project, we took over a company, we created it from scratch, it's us. And so, we have to put ourselves and dare to put ourselves in 1 and not put ourselves in a position of prayer, please, that I find funds by default and I had the same thing in recruiting candidates too. Sometimes we would make decisions by default because all of a sudden we needed someone. But a lot of times, what happened, it doesn't work, it doesn't work like that. It doesn't work out.
00:37:47
Gaëlle Helsmoortel: I'm glad to hear you say that when you have to raise funds, you're not in a bidding war because I totally agree with that. We have a project and indeed, it can't necessarily please all types of investors and we have to accept that. But at the end of the day, when you have a good plan of action, when you are sure of your project and your objectives, there will always be an investor with whom it will work.
00:38:15
Corinne Dumont: Yes, and I think that we should not, sometimes, when we have not yet made this kind of journey or path, I think that we should not say to ourselves, well, I presented my project to the ABC investor, he refused. Well, I say, so much the better. Yes, because it's probably indicative of something. And the fact of denigrating these people, which I was able to do as well, it doesn't help, it doesn't bring anything. And it's not even... here's where they are on their journey, whatever, it's that it's not aligned. For me, it's revealing. And so, I find it much more interesting to say rather than... because I have done at least sometimes to flagellate myself by saying "ah they didn't take me"... is to say no. In fact, I believe in my project, but maybe with this feedback, I need to adjust one or another component of my project to make it stronger. That's positive constructive feedback. What do I take away from this feedback to strengthen my pitch and my project and the foundation of my project?
00:39:24
Gaëlle Helsmoortel: Exactly, I am 100% aligned with you, Corinne.
00:39:28
Corinne Dumont: Oh, that's great, I feel it!
00:39:37
Gaëlle Helsmoortel: Great, thank you very much Corinne, because I thought it was a nice conversation on a not necessarily obvious topic, which we don't necessarily dare to talk about. But I think it's important and there are many companies, whether it's chain stores or other types of companies that are busy making this journey. So maybe they'll listen to us and any questions that I have for you, I'll transfer to you.
00:40:09
Corinne Dumont: With pleasure.
00:40:09
Gaëlle Helsmoortel: But anyway, I put all your links in the episode bio. But thanks a lot Corinne. And see you very, very soon.
00:40:16
Corinne Dumont: Listen, thank you very much Gaëlle, it was very interesting.
00:40:20
Gaëlle Helsmoortel: Thank you, goodbye.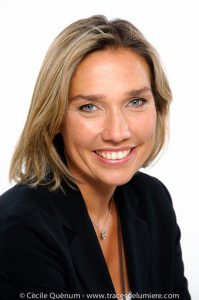 I'm Gaëlle Helsmoortel, CEO of dgenious. I work every day with my team to enable retailers to boost their performance through quick and easy access to their data.
With Let's talk retail, I welcome my guests around specific and varied themes that will offer listeners the opportunity to take action in their own business immediately.
#10 – How to successfully collaborate between IT and business departments in your retail chain? , with Serge Ernst
Until now, I have mainly invited and discussed with retail experts, such as marketers, salespeople, CEOs... I was particularly keen to hear an IT expert's voice, expertise, and opinion this time!
Listen previous podcast
#12 – Does less predictable consumer behaviour impact the operational reality of a restaurant chain? , with Sébastien Chapalain
An analysis of our customers has shown that consumer behaviour is becoming less and less predictable. Various factors are behind this trend, such as the Covid crisis... But not only that!
Listen next podcast