#12 - Does less predictable consumer behaviour impact the operational reality of a restaurant chain?
An analysis of our customers has shown that consumer behaviour is becoming less and less predictable. Various factors are behind this trend, such as the Covid crisis... But not only that! In this new episode, I address this point, using the restaurant sector as an example and asking the following starting question: "What is the impact of consumer behaviour, which has become less and less predictable, on the operational reality of a restaurant chain?"
An analysis of our customers has shown that consumer behaviour is becoming less and less predictable. Various factors are behind this trend, such as the Covid crisis… But not only that!
In this new episode, I address this point, using the restaurant sector as an example and asking the following starting question:
"What is the impact of consumer behaviour, which has become less and less predictable, on the operational reality of a restaurant chain?"
To answer this question, I invited this week to the microphone of "dgenious, let's talk retail" the chairman of the Class'croute group in France; Sébastien Chapalain.
With 13 years of experience as Network Director and then General Manager of the Pizza Hut group in France, and just over four years at the head of the Class'croute, he is the ideal person to share his experience with you.
During this discussion, we discussed the following topics:
The COVID crisis has profoundly changed consumer habits. The codes have changed; how can we adapt to them?
Today's consumer is changing and making more precise demands. An organisation must be coherent from A to Z in terms of its offer. But how can you position yourself and adapt your offer to meet this demand best?
Sébastien Chapalain will confide in you his greatest current challenge and close this episode by giving you his advice on dealing with these increasingly unpredictable consumers effectively.
🤓Enjoy listening to this episode !
Post Scriptum :
Want to strike up a conversation with this expert? Here is Sébastien Chapalain's Linkedin
 Subscribe to our newsletter to receive our news and advice on data management for your business.
Lien : Newsletter Inscription
What about you?  Which topic(s) would you like to see in the next episodes of "dgenious, Let's talk retail."? We invite you to share your suggestions with us! 
Lien : Share with us !
And if you enjoyed this moment, I invite you to let us know by leaving a five stars review or comment on the iTunes app.
See you soon!
Transcript:
00:00:00
Gaëlle Helsmoortel: Hello and welcome to another episode of the Dgenious podcast, Let's Talk Retail. So today, the topic that my guest and I are going to discuss is the consumer, and more specifically the consumer behavior, which today is more and more changing. The consumer is more and more demanding and therefore less and less predictable. And what I wanted to do today with my guest, who I will introduce to you in a moment, was to see how to manage an operational reality, mainly within a food chain. When you have a consumer that you are dealing with that is less and less predictable. So, here is my guest today, Mr. Sébastien Chapalain. Sébastien, hello, how are you?
00:00:48
Sebastien Chapalain: Hello! Well, listen, very well, thank you very much.
00:00:52
Gaëlle Helsmoortel: So, just to introduce yourself to our listeners, you are the president of the Class'Croute group - we'll also present Class'Croute in a moment - and you have a solid experience, whether it's in terms of managing points of sale, managing networks of points of sale and also, obviously, in food. You've been at the head of the Class'Croute group for a little over four years, I think, and before that you were with Pizza Hut for a little over 13 years. So, there too, the restaurant business is very present. So, you were first as network manager and then as general manager of the Pizza Hut group in France. And then you have, I saw, a little bit of finance in your veins as well because you were a management controller for the Accor group and also for young brands. So, I think you're really the ideal person for this topic today. And maybe just a quick word about Class'Croute, but you'll say, we'll obviously talk about it in more depth later, because in France, our French listeners are certainly very familiar with it, our Belgian listeners perhaps a little less so. Class'Croute is 150 restaurants, mainly in France. You mainly target a corporate clientele to whom you offer a very complete range of products, from breakfast to lunch to be eaten in your outlets or delivered to the company, and you offer connected fridges. Finally, you don't offer the fridges but the channel for buying the connected fridge. You also organize events in companies, so there you go, I won't say more because you'll talk about it, but just to brush up on who you are and that you're really the right person to talk about this topic today. So, I'll come to my first question. I said at the beginning, well this is consumer behavior today, it's less and less predictable. But are your consumers like that too? Do you see that with your customers?
00:03:10
Sébastien Chapalain: So, clearly, we see an effect linked to the crisis we just went through or until now, before the crisis, we had consumers who were relatively predictable in their food buying acts, whether it was in delivery or in restaurant. Since the crisis, everything has changed, that is to say, the consumer now has the choice to go to his business or not. And this raises the question, we have to ask ourselves, when he starts his business, how does he restore himself? Historically, there were canteens in companies where everyone went to push their tray between noon and 2pm. Tomorrow, and we can already see it in the very first trends, now that the sanitary situation is being resolved, we are realizing that the consumer not only does not want to go to the canteen any more, but above all wants to be perfectly free of his choices, he does not want to have an imposed dish, he wants to be free of his choices, of his schedules. Today, this is why, as you mentioned in the introduction, we have launched a number of concepts that allow consumers to be completely free in terms of schedules, flexibility and breadth of choice. And that's the very first lesson. Of course, behind the health crisis, there are also all the issues around transparency, CSR, short supply chains and all these things that have been on the table in France for several months. I would be tempted to say that all this is accelerating. Today, consumers need to see things clearly and this is becoming more and more essential in their choice.
00:04:53
Gaëlle Helsmoortel: No, but yes, I have the boss of a large French chain that was not in the restaurant business, but was a chain of stores, who actually told me the same thing in terms of CSR and who also told me that today, one of the challenges you had is that you could no longer say well, I answer this problem first. And then this one, second that today you also had to manage almost everything at the same time.
00:05:22
Sebastien Chapalain: Not only do you have to manage everything at once, but especially on this particular topic. It has to be an integral part of the company's DNA. In other words, today, when you want to build a credible offer in terms of food or in terms of services around food, you have to be consistent from A to Z. That is to say, what you are going to have on your plate must correspond to the image you have of it and finally to the specifications you have. That is to say that typically, you don't want additives, you want a short circuit, you want designations and so on and so forth. But you don't want it to be delivered by a vehicle that pollutes for hours and hours or make 20 deliveries to go to the same headquarters, it doesn't make sense. So yes, this whole movement is underway at our level. It's true that the restaurant industry in France, and particularly the fast-food industry, we have worked to be among the first to launch selective sorting in restaurants. We are currently implementing the deposit aspect that the French government requires us to put in place. But beyond the obligation, we consider that it is a real plus, especially for the consumer who can no longer bear the idea of having tons of cardboard boxes when he goes to lunch or, worse, when he receives meal trays in his company, to have at the back of the room all the remnants of a packaging that, finally, are no longer useful. So, all this is underway, so it's a movement that is clearly accelerating after Covid, and our challenge is to make sure that we are more or less on the same wavelength as the others.
00:07:00
Gaëlle Helsmoortel: So, we'll talk a little bit later about how you manage it? Because indeed, it's a lot of things to manage and they are not simple things. We talked a little bit about who your customers are. But here's the thing, the corporate customer base is broad. Do you address all the personnel of companies or do you really have a typical consumer? Or do you just tailor your offering to different types of consumers? How do you... who are your consumers?
00:07:29
Sébastien Chapalain: Actually, there is a double answer in what I'm going to do, in what I'm going to share with you. The first one is that we, historically, have a very specific positioning in France and that we are present in business parks. Business parks are peri-urban areas that are obviously not in the city center, where we often find small companies, small industries, small companies in the tertiary sector that have often been neglected by all the traditional food manufacturers because, in the end, these areas do not work in the evening, Class'Croute had the brilliant idea, 30 years ago, to set up in these areas and to offer convivial eating places that could meet the demand of these people who did not have a canteen and therefore, according to the company, finally shared a canteen with a brand. That's the genesis. And so, in relation to your question, today, we attract all types of customers. Having a majority of women customers is simply a matter of chance. In fact, a 55-45 space. It's more like 30-40. But that's because our offers are very salad, Bowl, which speaks a priori a lot to a female clientele. By saying that, of course, we are not misogynistic at all. We accept men with great pleasure. But beyond the joke, it is that today, we have all types of customers, whether they are people who work outside on public works issues or engineers, or things like that. Today, at Class'Croute, there are all types of clients who cross paths and that's also one of our strengths.
00:09:23
Gaëlle Helsmoortel: Because I saw that you have indeed, when you said vegan, you also have many vegetarian dishes. It's true that we can think that it's also maybe a little bit more feminine, even if I think that there are really men who pay more and more attention to what they eat and the healthy side of what they eat. But you also have classic sandwiches. So, are you still trying to have an offering that's in line with different types?
00:09:52
Sébastien Chapalain: The idea is really to have a balance between the different diets that are being put in place. Finally, indeed, you mentioned the healthy, the vegan. But there are many others. Flexitarians and all these things. So, we must now take into account this specificity. Now, we are with each other and with the listeners when we look at our statistics. In the end, the customer always takes the same thing. And that's the way it's been for years and years with Pizza, we were always trying to come out with something new when I was working there. It's finally the Margarita pizza that for 30 years has been the top of the list.
00:10:30
Gaëlle Helsmoortel: But that, I think, can be found in all sectors. I always give the example by saying here are the sneakers, we're going to bring out the yellow sneakers this season, but the customer will go out with his white sneakers. But he might not come into your store if there weren't, in quotes, the yellow sneaker. Well, for you, it's something else.
00:10:52
Sébastien Chapalain: But it's all the more true what you're saying, that at some point, you have to create a bit of news within the brand. That's what we try to do. We have made a real commitment for two years now. It is to work on the seasons. In other words, we offer our consumers seasonal fruits and vegetables that we use in each of our recipes because it is a real commitment to CSR. There is no reason to put strawberries in the month of December and so, as such, we make it a real axis of communication that makes us eat what is available, we don't bring strawberries from the depths of South Africa in December because we really want to have a recipe with strawberries.
00:11:39
Gaëlle Helsmoortel: But it's not going to be easy to do that, I mean really in a very operational way because you have, there you go, almost 150 outlets. I know that there are independents in there. How do you manage to make sure that when the consumer asks for this product, he's at your place when he wants it, when he wants it?
00:12:04
Sébastien Chapalain: So, there are, to answer your question, there are three actors in the chain. The first actor is obviously the marketing team that produces, which, in my case, will decide that a certain recipe should be used, for example strawberry, or that it will design all the recipes. Behind the conception of his recipes, there are obviously the grammages, the ways of doing things, as when one cooks in his personal kitchen. The second aspect is to work, obviously with the suppliers and I would say our logistician who will make sure to deliver all the strawberries to all the points of sale at about the same time. And then, of course, after that, there is the operational process where we must explain to the 150 operators how we are going to make this famous strawberry dessert because we consider it to be an important element. And the whole thing consists in communicating it, because we mentioned earlier that the consumer wants to have something new, even if he is going to take the dessert he is used to having every time. Indeed, it is a chain that is important, as in many restaurant chains, it is a process that is quite long. You have to get started relatively early. We have between 3 and 4 months of vacuum.
00:13:20
Gaëlle Helsmoortel: So when we say today that consumer behavior is less and less predictable. Would it be more his term of... By which channel he's going to buy it or by which channel he's going to source it? Than what he's going to buy? Could we say that there are actually trends that you are responding to, and that is in the DNA of Class'Croute in terms of RSA, local, proximity, type of ingredients? You have strong commitments on your website? I guess it's not just on the website. I know you have strong commitments, but do you have that? But that at the end of the day, it's all about meeting the consumer's requirements as best as possible in terms of... As you said at the beginning, today, the consumer wants to order online because he doesn't want to leave his house or today, he wants to go for a walk because the weather is nice and he will go to your place, on foot, by bike or by car. So, isn't the challenge more in terms of buying channel?
00:14:23
Sébastien Chapalain: Yes, in fact, the challenge... things have evolved in the sense that, when you come to us, I would say that you have a certainty that the product will correspond to what you expect. There are no bad surprises. The execution is well done. There is some novelty afterwards, whether you take it or not is another matter. Now, what has actually changed is the way I access it. That is to say, we have seen an extremely strong digital push because Covid has gone through this. So, we didn't want to go to the restaurant. Behind this, of course, came the "Internet order taking" and the "delivery" part, which became very, very strong. So that's something that's now established. And then there is everything else, which is finally the different channels that we have implemented, where finally we have chosen to go to the companies and not the consumer comes to us. What does this mean? It means that finally, we said to ourselves that we started from a simple principle, that if the consumer does not want to go to the company, we will go to him, so we will do that. But we are going to put Class'Croute in the company. What have we done? We developed a connected fridge offer which has a huge advantage, it's that the product is available all the time. Now, we make it a point of honor to change the menu very regularly in order to bring novelty. Afterwards, for companies that want a little more service, we have created what we call the smart kitchen. Today, it's a fridge with coffee machines and microwaves for a small company, and it's a bit of an individualized canteen. And then we created the third stage of the rocket which does the same thing. It is to say, finally, we can also propose to consumers the presence of a human being to be able to both make the service, maybe clean the room in which people can eat. And then, at the same time, to answer a problem which is bah voilà, I have a board of directors, it is necessary to choose 10 meal trays and what you can help me to be able to do it. Today, we have these three levels and the big difference compared to Covid is that historically, these services did not exist. Now, they are in the company and therefore, it is true that this has a big change on which today, we are in full phase of discovery. But the good news for us is that there are many, many requests.
00:17:02
Gaëlle Helsmoortel: And I also imagine that, as you said, the history of Class'Croute was more suburban. I think that's the word you used. There must also be differences by region then. Do you observe that the consumer, well your consumers, do they have a different type of consumption in the South than around Paris or in the North or not at all?
00:17:31
Sébastien Chapalain: It is obvious, when you work in the food industry, that there is a weather effect. That is to say that when we see the ground at the same time, they eat salads when on the other hand, the sky is gray and there is a soup available, we can be interested in the soup. So that yes, obviously, even if it is true in all the chains of restoration. As far as we are concerned, there is not much difference. The good jump, it has the same menu everywhere. Of course, we have franchise partners who obviously want local. But no, when you look at the statistics on their local versus global, the global wins by a long, long shot.
00:18:08
Gaëlle Helsmoortel: Exactly. What is your vision on the future of chain restaurants? In terms of consumer satisfaction, in terms of maybe even... change, that you could bring to meet their future demands or desires.
00:18:34
Sébastien Chapalain: For me, there are three words that come to mind. The first one is transparency. It means that today, consumers want to know what they are going to eat. So, obviously, we're going to talk about origin. We will also talk about prices because today, I think that the consumer is fed up with these menus with extras. It's in the menu, not in the menu. And so on. So that's finally being the most transparent. There is a second word that comes to my mind, it is conviviality. When you're in a restaurant, that's the basic contract, when you're in fast food, fast and friendly. Generally, it doesn't work very well together, and I'm convinced. And I have demonstrated this in a number of our restaurants, with people who do it very well as soon as we put a little bit of humanity, a little bit of benevolence towards our customers. As if by chance, they come back. It's because they are simply considered and that things are done correctly. Transparency, friendliness. I would like to add one last element of experience. Today, I am firmly convinced that we have a lot to do in terms of experiences inside restaurants and what I call experience is that when I am in a restaurant, we also observe a décor. You also get to watch the ballet of the waiters, the kitchens, get to know how things are going. Now, you have two options when you are an operator, either you show nothing of what happens in your kitchen and at that moment, free to the fantasies of each one to imagine what we are doing. Or you can make the choice that we have made in the new concept, which is to show everything that happens. So, we show everything that's going on and we go even further. Today we consider that, being on a working public, we think that tomorrow we must be able to attract in our restaurants people who come to make appointments, to work possibly, to privatize the restaurant to be able to meet because we are around the theme of work and that this theme, we have the companies, well the company managers, often, need to go to the green with their teams. That receiving a candidate, it can be nice to receive him in a restaurant, that's it and to make a team meeting, it's also good. And finally, we have the food on one side and the warp on the other and it works quite well. And so, we have been running tests for a few years now, which are quite conclusive. So, we are working to eventually develop this offer. And this is where, unfortunately or fortunately, I don't know, but Covid is accelerating everything. That is to say that the implementation of telecommuting, as we all know, when we have been at home and we have had the delivery man, the dog, the children in the way, it's just unbearable and we have all ended up in the bistros next door, with a tiny table without wifi, without a printer, well at some point, it becomes complicated to work and say to myself that I just had to go to the company, except that the company was closed. It doesn't work anymore. And even today, now that companies are open, many people have realized that the 45 minutes of travel to go to work, plus the 45 minutes back, finally, with the wonderful digital tools that we are offered today, we can very well not see and work properly. On the other hand, you need a setting in which you are calm. And then, where we can eventually receive.
00:21:51
Gaëlle Helsmoortel: Yes, I really make the parallel with chain stores because I really like the words "transparency", of course, but I love the conviviality and the word experience where there are a lot of people who say stores, I'm not talking about restaurants, but stores are over. There will only be digital. Well, I'm convinced that this is not true. I think that human beings need, OK, they're going to continue to buy certain things and from time to time in digital or sometimes a lot in digital, but I really think that they need to live things, to live experiences, to meet people and points of sale that will remain, I think that it's the ones that will manage to do that, so I hadn't heard that yet for the restaurant chains and I find that. I mean, I think it's really good.
00:22:39
Sébastien Chapalain: Yes, thank you, but if you want that, it's a real... It's both a belief, but it's also and more importantly, a feedback, finally, from what happened with Covid, by definition, a lot of people got their food delivered. Finally, now that the Covid is behind us, the same people are coming back to the restaurant, which proves that there is anyway... we come to the restaurant to look for something. Indeed, human beings are terribly sociable, so they need conviviality. Now, indeed, between a restaurant A and a restaurant B, but who is going to do better is the one who is going to propose something, a decor, an experience... I don't know. There are a lot of things to do, but today, because in our DNA where work, that's our target. Because, as you said in the introduction, we deliver meal trays, we deliver cocktails in companies, we deliver breakfasts in companies. Today, the people we work with are people who work in companies. So, it's either the employees on an individual basis, who can have their meals delivered or come to a restaurant, or the company that needs to organize something, a board meeting, a sales meeting and so on and so forth, where we are really the permanent partner of what I call the active population. Generally speaking, to make sure that things go pretty well on a daily basis. All this with a vague promise but which is kept 365 days a year because there are no bad surprises.
00:24:04
Gaëlle Helsmoortel: And work is a big part of our life. When you look at a day...
00:24:09
Sébastien Chapalain: Unfortunately, yes...
00:24:11
Gaëlle Helsmoortel: Or fortunately. But so much so that from time to time, there are moments where there is actually a little bit more conviviality, moments around a meal, even if it's just a meal tray, we're lucky in France and in Belgium to appreciate good things and to like good things.
00:24:31
Sébastien Chapalain: It's interesting what you say, because we see it very well when we come to a company and we arrive in the middle of a management committee and we put down meal trays. Everything stops, so in effect, all of a sudden, conviviality takes center stage at the table. Objectively, the meal trays open up. We look at what the neighbor has on his plate, we exchange. I don't like this dessert and so on and so forth, and all of a sudden, we get out of the framework in which we were a bit formal, where everyone came and presented their slides. We come in a more friendly setting and then, all of a sudden, tongues are loosened. We talk about the vacations and the next weekend. And that's why we are really convinced that the notion of conviviality is very, very strong as far as we are concerned.
00:25:14
Gaëlle Helsmoortel: And what would be your advice to our listeners who, in the restaurant business, but maybe not only, on the best ways to deal with these consumers and the behavior of these consumers which is less and less stable or less and less predictable. What advice would you give them if indeed I have all these challenges, which we've talked about? Where do I start? Or what do I do? What advice would you give them?
00:25:46
Sebastien Chapalain: The first one, he'll be the last one at the same time, knows that you should never forget one essential thing what you're making to eat. So, the basic contract is that it has to be good. Once it's settled, you can deliver something in ten minutes because you ordered it ten minutes ago. But if it's not good, it's not good. So, there you go. Let's go back to the basics. If indeed you come to a restaurant and the service is superb. The waitress was very nice and everything went very well and it was, excuse the term, disgusting, I'm sorry, but that doesn't work either. So, anyway, today, it's both the power of a brand on one side and on the other side, the basic execution of the product. I think that this is valid in all areas of activity, where we create a real difference. And if the consumer's mind is set on it, suddenly it's no longer an issue. And here, for the last thirty years, when we look at the different brand tracking indicators, there is not much of an issue on that side. The consumer has confidence in the products we offer.
00:27:00
Gaëlle Helsmoortel: Yes, then today obviously, when it's not good with social media, etc. or with comments and all the platforms that allow you to leave comments, you, you know it pretty quickly. So, I think actually going back to the basics and making sure that it's got to be good, that's good advice, maybe just one more question. Today, you, your biggest challenge today would be what?
00:27:28
Sébastien Chapalain: Well, we are involved in a real reorganization of the corporate canteen market. So, I'm not as familiar with the situation in Belgium as I am in France. But in France, there were canteens in SMEs and large groups that had been in place for years and years, and which today no longer meet the needs of the consumer. And there are two types of consumers. On the one hand, there is the company that pays rent to its operators and on the other hand, there is the end consumer who pushes his tray. And today, in both cases, the company, as it does not have all its employees, it may not want to pay for a canteen five days out of five when there are employees who are three-fifths and on the other side, the consumer. When he comes, he may not want to have the experience I just mentioned. Today, our biggest challenge is finally to turn the corner and understand what the consumer wants to have. I'm talking about the consumer, the company on the one hand, and finally, he is looking for flexible solutions that are good and in line with the standards expected by his employees. Because you must keep in mind that it's the middle of the day and everyone is waiting for their meal and that can be nice. But you can't go too far wrong when you're the company manager. On the other hand, the final consumer wants to be able to eat something varied, nice, maybe easy to take away and in which, finally, he will find himself. And all this at a reasonable price, since the company gives them meal vouchers, so they pay with that. So that's the equation we have to solve. I would be tempted to say that this equation has been on the table for a number of years. Except that, with Covid, companies have realized that there are savings to be made in terms of square meters, because I have more than 500 square meters since two thirds of my staff do not come every day. That's on the one hand, and on the other hand, I don't want to pay for a canteen when I don't have everyone. So, it's a real impact on that side and the whole market is reinventing itself. Of course, many companies that have launched themselves, various startups, to follow up on the question you asked me earlier, are all people who launch themselves and see the golden goose, but forget something essential, which is that you have to make food, and therefore if you make a good product, you have the right services. So logically, it's going to work together.
00:30:05
Gaëlle Helsmoortel: Perfect! In any case, thank you very much for this exchange. And I regularly go to France and therefore I regularly go to Class'Croute, so I know your restaurants well and I know that everything you said was indeed true and that it is good. I think that's important so, thank you.
00:30:29
Sebastien Chapalain: Thank you very much for the invitation and it was great to chat with you for those few minutes.
00:30:34
Gaëlle Helsmoortel: Well, me too. Thank you very much, see you soon.
00:30:35
Sébastien Chapalain: Thank you, goodbye.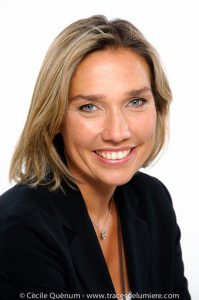 I'm Gaëlle Helsmoortel, CEO of dgenious. I work every day with my team to enable retailers to boost their performance through quick and easy access to their data.
With Let's talk retail, I welcome my guests around specific and varied themes that will offer listeners the opportunity to take action in their own business immediately.
#11 – Growing your chain stores through the integration of external investors: a fatality? , with Corinne Dumont
In this episode #11, I have the chance to discuss with Corinne Dumont a subject that is not obvious and that we don't necessarily dare to talk about: the integration of external investors to ensure the growth of one's business!"
Listen previous podcast
#13 – What are the main trends in franchising for 2022? , with Didier Depreay
In this episode, you will hear Didier Depreay: chairman of the European Franchise Federation since 2018.
Listen next podcast