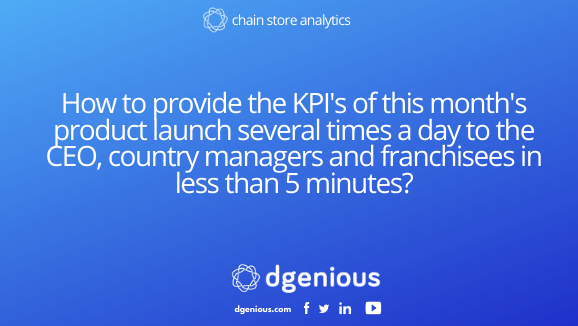 As a marketing manager, you just launched the newest product throughout Europe. You have determined the KPI's to be monitored on a daily basis: aggregated sales by country, by point of sales, by franchisee, the different stock levels, the list of consumers with loyalty cards who have not yet tested the product, …
Chances are you will spend a great amount of time every day collecting data from different systems, copy/pasting parts of it in different excel worksheets, making sure each person receives the sales figure for their sales region, paying attention to send the right excel file to each recipient. You know this will eat up a lot of your time and this is not the most enjoyable part of the job.
With dgenious, it will only take you 5 minutes to manage this situation in a dynamic and professional way.
Connect to dgenious from your smartphone, tablet or computer. The data from the different systems is available in real time.
Prepare the various reports with the required KPI's. This is an easy and intuitive process, and you can do it without IT intervention.
Choose with whom you want to share these reports, how often and how. For example:

every morning at 8 AM, an aggregated view by email to the CEO and the 5 country managers
2 times a day by e-mail to the 20 key account managers and 300 franchise managers (each seeing the data for his or her commercial perimeter)
at any time for the logistics manager via the dgenious app
Once a week on your marketing agency's sftp server to send personalized emails to consumers who have not yet used their promotional voucher

Reports will be distributed according to your instructions and each recipient will receive the report according to his or her permissions. Those responsible for UK and Germany will each see only the figures for their country. The Key Account Manager for the London area will see all the data for his region and a franchisee from this region will only see the data for his franchises.
Thanks to dgenious, you can keep focused on important things during the crucial period of your launch. And prepare for next month's new promotions, campaigns and launches!
dgenious is the reporting solution specially developed to manage your distribution network in a secure, unified and dynamic way.
Analyze your franchises, points of sale, campaigns, launches, stock, consumers… Juggle with your data. Create, modify, adapt and share your reports on demand, easily and quickly. In real time, without any special IT knowledge.
The technical point
dgenious reconciles data from your different systems in real time (cash register, stock, erp, crm,…) and makes it available on your mobile, tablet or desktop computer.
dgenious has an advanced technology for managing permissions and authentication. It allows you to build permission profiles by mixing and matching various sources at will (AD/ldap, ERP, different POS systems, manual management of some users, …).
With this system, a franchisee only sees the sales and stock data of his points of sale, whereas a logistics manager can see orders and stock data for an entire country but has no access to sales or commercial conditions. A network manager or product manager can prepare a report and share it with categories of users (all franchisees and all logistics managers) and is assured that everyone will only have access to the appropriate scope of data.
For a more secure, dynamic and unified management of your distribution network.