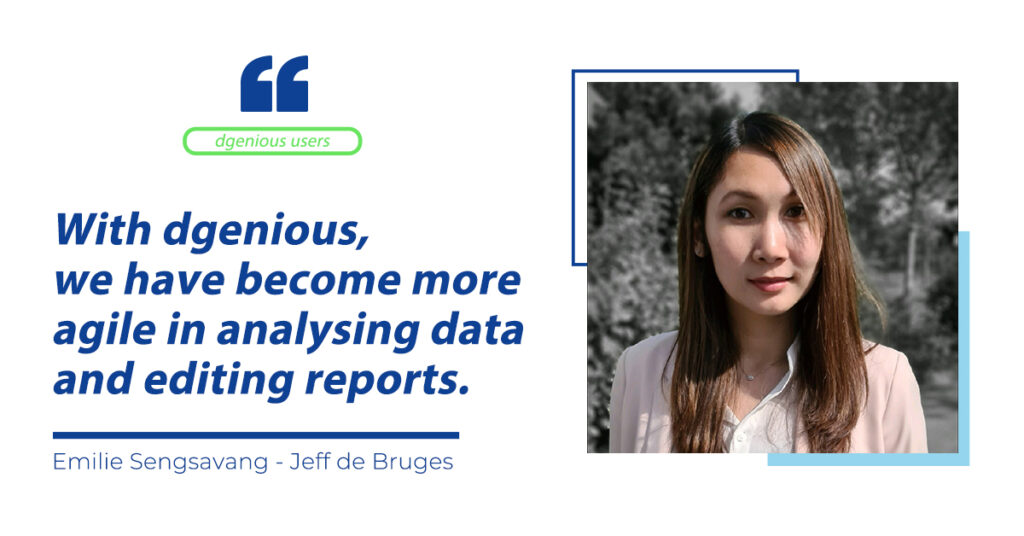 In December 2020, Jeff de Bruges implemented our retail business monitoring data solution in parallel with installing a new set of checkouts throughout its network (branches, franchises, managers, etc.). This decision was part of the profound digital transformation Jeff de Bruges is undergoing.
According to Emilie Sengsavang: "It is the combination of the cash register change with the implementation of the dgenious Business Intelligence solution that has allowed us to have a better visibility of our sales in shops."
Until then, Jeff de Bruges had no tool to centralize all the sales data from their shops, which has now been done.
We hope you enjoy reading this new testimonial from one of our dgenious users.
Initial issue – Jeff de Bruges

Before dgenious, we only had data from the branch tills. We were forced to operate based on a limited sales analysis with only one-fifth of our shops, even though our network is made up of a majority of franchises.We were analyzing our sales, shop by shop, and did not have an overall analysis of the network's sales performance which is essential to our business. We can now look at the following questions:What are we selling and in which shop? Which product? Which range? What is the evolution of sales? What are the figures for the different months and years? Etc.These are important analyses for the development of our company, which we did not have before.Moreover, our network analyses only analyzed the purchases of our shops and not the sales. We were losing a considerable amount of consumer-related business information.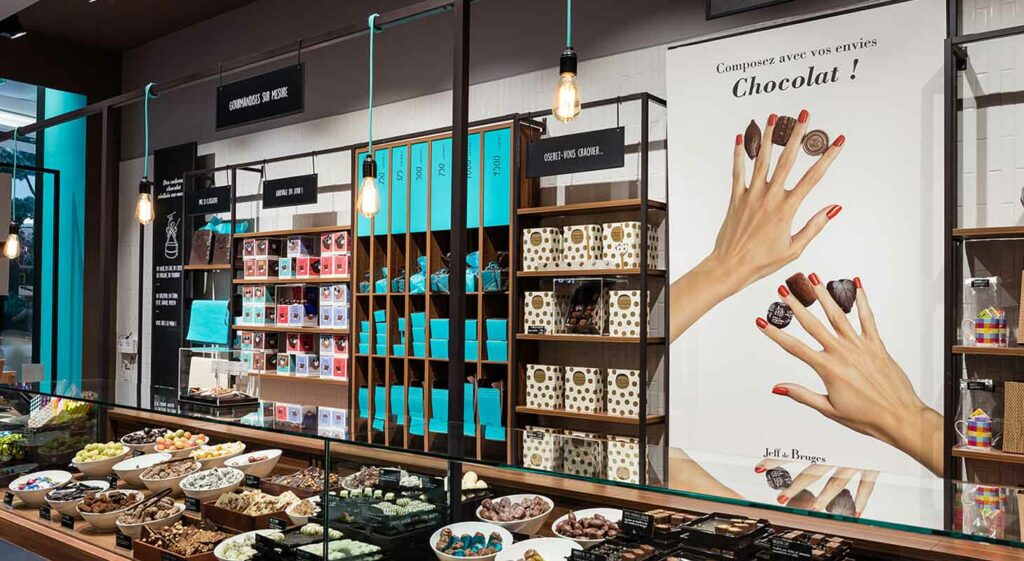 ---
What are the main benefits that dgenious has brought to Jeff de Bruges and the Finance department in particular?
First and foremost, dgenious allows all Jeff de Bruges departments to centralise and consolidate all the company's results and sales.
This centralization of results has allowed us to be much more agile in analyzing data and compiling reports.
Before dgenious, most of our reports were built by hand. We were forced to search for information from different sources, collate it into Excel files, and calculate and analyze revenue trends.
With dgenious, we search for information directly in the platform and then very quickly build reports that will provide us with automatic, real-time monitoring of our performance. Dgenious now allows us to avoid continually researching and calculating turnover weekly and monthly.
In concrete terms, this is a real-time and productivity saver for us. We can talk about 1 to 2 hours per week, whereas per month, this translates into half a day.
---
What has the development of specific and customized reports brought you?
Building tailor-made reports according to the actions of the moment is a real added value!
For example, we have set up a specific report for new launches.
We list all the sales of the week, as well as the ranking of the top sales over several weeks. Thanks to this report, which is customized to our needs, we can very quickly make strategic decisions such as: should we keep the range or only part of the range? Should we develop more products related to chocolate bars or biscuits in the future?
We also look at performance concerning shops: which shops are the best sellers on these types of products? Do all shops buy and sell this product?
This report is sent automatically and weekly to our different departments (finance, marketing, communication, e-commerce and even IT).
In addition to this, we send monthly information to our franchisees to encourage them.
With the dgenious data monitoring platform, we have gained visibility on product data thanks to a powerful granularity, without limits and fully customizable analyses.
Two final examples of this precision:
Sales analysis by price range. Does this shop sell more products at €50+, or do they sell more products at lower prices depending on the customer base?

The possibility of no longer being reactive but having Agile management. For example, not waiting until the end of April to find out the results of Easter. The morning after the Easter weekend, we know what has been sold and whether we need to do a promotional action to clear our shops.
---
Does the use of dgenious also have an impact on management? Do they see the benefits of implementing our platform at their level?
The management has better visibility of the network's performance.
They can look at the financials and see the trends for the week or month immediately. Before, we could not provide them with answers so quickly; we had to wait until the end of each month to do the assessment.
Thanks to dgenious, they receive several automatic reports by email weekly and monthly. They can closely monitor the performance, sales and new product launch the various teams are implementing. For this last point, for example, we analyse the performance of these new products weekly so we can quickly see the results.
---
What would be your conclusion as a convinced dgenious user?
When I say that it is a powerful tool, it comes across when consolidating all the data from our network.

The tool is very reactive and fast in bringing back data, recalculating, etc. It's delightful to use, and it's effortless to use. It saves us much time compared to processing via Excel files because we work with a lot of data simultaneously.

We are thrilled to have invested in the dgenious solution.

The best part is that we haven't yet used the tool to its full potential. After almost two years of use, we are still in the early stages of using it, as the analysis possibilities are endless.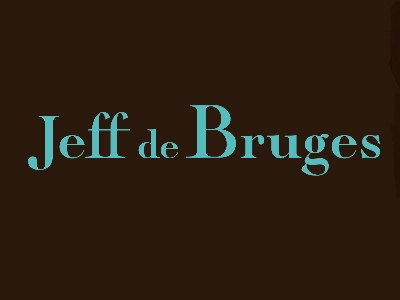 Which departments are using dgenious today and have implemented it in their daily tasks?
Many of us use dgenious within the company, with varying usage between departments.
At the users' heart, we have finance, which creates all the reports we use today and are distributed through the network.
The network, which is made up of each shop and franchisee, has access to dgenious for real-time consultation of turnover, sales per collection, average basket, etc. Some franchisees use dgenious for their accounting.
Based on these reports, shop network managers, regional managers, branches, and franchisees will use the tool to consult the data and manage their sector and shops.
Finally, the operational marketing, communication and legal departments also consult the reports to analyze sales and gather helpful information for their actions and files.
The centralization of this data and key reports has empowered all departments to freely access the figures and data that are useful to them. They can now search for information themselves, allowing the finance department to offload this task and save time for others.