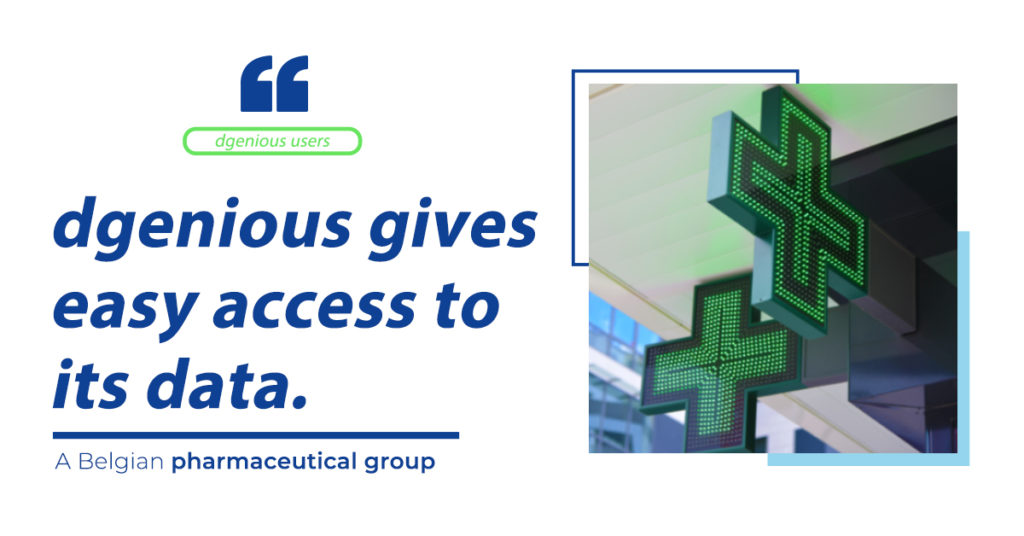 A Belgian pharmaceutical group, which has been present for 25 years, called on our business intelligence solution to modernize and optimize its internal data acquisition and management work as much as possible. This decision is part of the continuous development of the company's data control.
Well established in an increasingly digitalized world, the company now has several pharmacies, numerous employees, and more than 10,000 patients per year. This imposing size requires precise, structured, and efficient processing of day-to-day data. They felt the need to use an innovative and high-performance solution as dgenious.
Difficulties encountered before using our BI system, dgenious.
This company was having difficulty collecting and easily sharing key company data across teams. A situation that made processing their figures laborious, time-consuming, and slow.
As desired by the company, this advanced and accurate processing presented certain limitations to the existing BI systems: not always user-friendly, limited in research criteria and granularity of analysis, not to mention a lack of autonomy concerning their needs.
After a few days of using dgenious, here is the feedback received from them:
1) dgenious is very quick to implement!
Within a few days, the system, customized for their use, was set up and delivered to their company.
2) dgenious offers an infinite possibility of analysis.
Directly, they saw the infinite range of possibilities offered by dgenious. The company gathered a lot of information thanks to our data analysis tool, which we designed to limitless the calculation possibilities.
User advice to get off to a good start:
"The best thing to do to take advantage of this flood of information is to determine a few areas of thought. To have an idea of what you want to see. We advise you to set your internal objectives to know in advance what data you want to collect for your company. »
3) The dgenious solution gives easy access to its data.
Every company has a lot of data without having easy access to it. With this quick and easy access to data, this pharmaceutical group has made an incredible number of analyses and even discoveries!
The top management can see and discover analyses that they didn't even know existed until now. Thanks to dgenious, the company in question is more reactive. They have adopted optimal management of each of their pharmacies, both aggregated and individual.
4) The dgenious business intelligence system is incredibly accurate!
The system will look into the pure side of the data. These are accurate and complete. Thanks to our system, the company can now answer the following questions:
"How do I find new customers, and where do I look for them?"
"How can I improve my actions?"
"How can I facilitate the management of my inventories?"
"Should we consider adapting our pricing to sell even more? "
" What is the evolution of prices according to current promotions? "
"When should I recommend this product? »

With such accuracy and ease of obtaining key figures, dgenious represents your company's real financial gain.
5) dgenious is a real-time data manager.
For the company, consulting its figures in real-time is a considerable time-saver, a promise of enhanced performance. This aspect generates greater operational reactivity and stimulates their purchasing department.
"Before, we had to analyze the statistics after the fact. Now we know what was sold at any given time. For example, depending on the results, we give recommendations to the handlers, they apply them, and within minutes, we analyze the result of these changes. Thanks to dgenious, our company has acquired dynamic management of the points of sale. »
6) dgenious has a positive effect on 'team collaboration.
Since there is no limit to the number of users, our users share easily and immediately. They can now dig together, think more deeply, discuss and act.
"There is no doubt that dgenious allows us to take full advantage of everyone's potential. The level of the company's employees has increased because their access to data is broadened and personalized. They consult reports that they did not have access to before. The synergy between our teams is truly reinforced."
A last word?
"To conclude, our company is delighted with the availability of the dgenious team. They support and train us to use this system to take full advantage of all the possibilities offered by this data acquisition solution. And believe us, they are infinite …"