#3 - The digital transformation operated by Jeff de Bruges and his network of 500 POS! What are the first results?
For this episode, I welcome Dennys Larrieu, General Manager of Jeff de Bruges, to talk about retail and digital transformation. 
Dennys Larrieu's career is impressive, as he has held several important positions such as Retail Director for many well-known brands, especially in Western Europe. I would cite the following examples: Galeries Lafayettes, IKKS, Gerard Darel, Gap or Mark & Spencer. 
In this episode, I welcome Dennys Larrieu, General Manager of Jeff de Bruges, to talk about retail and digital transformation.
Dennys Larrieu's career is impressive, as he has held several important positions such as Retail Director for many well-known brands, especially in Western Europe. I would cite the following examples: Galeries Lafayettes, IKKS, Gerard Darel, Gap or Mark & Spencer.
I am delighted to invite him behind the microphone of dgenious, Let's talk retail. We'll talk about the strategic and pivotal period that the chocolate factory has been undergoing for over a year: the Jeff de Bruges' digital transformation.
Jeff de Bruges has more than 500 POS in France and abroad, including 400 franchises and a hundred of its stores.
2020 was a pivotal year for the company as it marked the beginning of a profound digital transformation.
Throughout our conversation, Dennys Larrieu will explain how the brand managed to get its franchisees on board and will discuss the objectives of such an action.
In this podcast, you will discover
why the notions of proximity and rhythm are crucial for your business in a digital transformation;
how the COVID crisis represents an opportunity for retail;
why it's necessary to design digital at the image of your company.
Finally, my guest will share with you what he is already learning from these months of transformation.
Post Scriptum :
 Subscribe to our newsletter to receive our news and advice on data management for your business.
Lien : Newsletter Inscription
What about you? Which topic(s) would you like to see in the next episodes of "dgenious, Let's talk retail."? We invite you to share your suggestions with us!
Lien : Share with us !
And if you enjoyed this moment, I invite you to let us know by leaving a five stars review or comment on the iTunes app.
See you soon!
Transcript:
00:00:09
Gaëlle Helsmoortel: Welcome to Dgenious Let's Talk Retail, the podcast that shares tips and best practices from key players in the retail and franchise industry. Each episode is a conversation with an inspirational person or an expert in one of the key areas of modern retail. My name is Gaëlle Helsmoortel. I'm the CEO of Dgenious and I work every day with my team to enable retailers to boost their business through easy access to their data. If you're not afraid of new ideas and want to have a good time, this podcast is for you.
00:00:40
Gaëlle Helsmoortel: Hello everyone and welcome to another episode of Dgenious, Let's Talk Retail. So today, I have the great pleasure to welcome a true retail expert, a man who has spent his entire career, he's still young but his entire career so far, developing and advancing brands that are all active in retail. And you will see, not just any brand. Today's general manager of Jeff de Bruges, Dennys Larrieu. Hi, how are you?
00:01:13
Dennys Larrieu: Hello, I'm very well, thank you very much. How are you?
00:01:17
Gaëlle Helsmoortel: Oh well listen, that's nice, thank you. I'm, I'm fine too and I'm really glad that you agreed to be on this episode of Dgenious' podcast, Let's Talk Retail. Why? Because I, personally, was pretty impressed when I saw your LinkedIn profile, and all the brands that you've had pretty significant positions for, like retail director, the director even for large regions, Western Europe, etc. And yes, I'm very sensitive to everything that is brand, the image and the brand, the positioning of these brands. And when we see the brands you've worked for, they range from department stores, as we say in France: Galeries Lafayette, Printemps, to affordable luxury brands like IKKS, Gérard Darel, Pablo. For me, these are brands that speak to me, obviously, but also Gap or Marks & Spencer. So here is really what a beautiful... What a great list! So, today, it's Jeff de Bruges, so I hope I'm not mistaken, but I think there are more than 450 Jeff de Bruges outlets today in France mainly, but not only. And also more than 300 or 350 franchisees. So, it's really an important network to manage. And I'm particularly interested in the conversation I'm having with you today, and that's the digital transformation that you've carried out over the past year. In 2020, we all know that it was not the easiest year for retailers, but I would like to talk about it and you will see, my questions are going to be geared towards that and also how you piloted and I imagine still this year because, I imagine there are still things you're putting in place this year, how you got the whole network to follow you? We know that 300 franchisees are independents with their own goals. I think it would be interesting also to get your view on how you've driven that. So that brings me to my first question, Dennys, which is ... Feel free to add to that intro if you feel it's necessary. The first question was, what were your goals in launching such a transformation? And were there any key elements that made you decide to implement this digital transformation within your network?
00:03:55
Dennys Larrieu: Yes, so, Gaëlle, thank you very much already for this introduction. Maybe a few words to complete Jeff de Bruges' presentation. So, you were very, very close with the numbers. Almost right. We have more than 500 stores and about thirty, a little more internationally and in France. We have almost 400 franchised stores and about a hundred directly operated stores. So, Jeff de Bruges, I think that many of those who are listening to us know. If a brand that was created in 1986 and one of its particularities is what? It is finally to have modernized the chocolate world by working a lot on the customer experience. And that's very important because we're going to talk about digital, of course, but it's a common thread, really. The experience is the customer, whether we have a physical store or an online sales site and associated services around the Web universe. So that's something very important. So, Jeff de Bruges has a notoriety rate of nearly 90%, so many people know Jeff. And beyond this desire for customer experience, there are two concepts that I would like to emphasize. The first is the notion of proximity. This is also very important because we'll come back to it with digital, we'll come back to it with the service dimension, but proximity is one of Jeff's founding values and it's a word that is absolutely key today in the evolution, which we see very strongly from the consumer, it's this notion of proximity. And then, the second thing is the notion of rhythm. Jeff de Bruges is a chocolate maker. We have a very, very strong seasonality, since we make more than 50% of our sales between Christmas and Easter. However, we have new products every two to three weeks and we have a real retail rhythm. You can find this in the world of ready-to-wear or even health and beauty, with windows that change every two or three weeks. Well, we have that at Jeff de Bruges. It's part of the modernity. It's part of the customer experience. Again, proximity. Again, that was to give some perspective on Jeff. To get back to your question: actually, Jeff has a very nice network of physical stores. However, this network of physical stores was not unified. This network of physical stores does not benefit from a digital dimension and from all the added value that digital can bring to all the stores and to the whole company. And it seemed quite obvious to us when we analyzed the evolution of society and the evolution of the consumer and the expectations of the consumer today, about a year, a year and a half ago, to launch a strategic reflection on digital. But which digital designer for Jeff de Bruges? This is also a key point. Many people talk about digital. What is very important is to think about a digital design that is adapted to the brand. In fact, the promise that we want to offer to customers, that is to say the real experience that we want to offer to customers. So, we started thinking about this. We'll come back to this because we wanted to involve all the company's players in this process. And we have, for example, I know that this is one of the points on which it is important to go further, but we have, for example (to be sure to involve the entire network, and we were just talking about the 400 franchised stores), we have done two road shows across France, so through regional meetings that we have set up to explain the vision, explain the strategy, but also being attentive to co-construct with them through workshops to really identify the elements that we absolutely wanted to guarantee in our Jeff de Bruges digital strategy, and this is very fundamental. Why is that so important? Because it allows us to begin to involve the network in this great adventure that is digital. And today we even talk about unified commerce. What happened next? Of course, we had the crisis, but I would like to insist on the fact that we had already started the strategy before the crisis. Somewhere, there is something that can be interesting with the crisis we are experiencing. If there is a virtue in this crisis, it is, I would say, the accelerating character of the transformations in the retail universe.
00:09:38
Gaëlle Helsmoortel: Well, Dennys, you already said a lot of things that were really interesting and important. Obviously, I love the customer experience. We had, a few episodes ago, Christophe Gérard, who was also emphasizing that. I think it's great that you, as the head of such an important network, you put the emphasis back on that. The second thing that you said is so important I think and you're right to point it out because it's often forgotten. You used "designate digital in your image", like Jeff de Bruges. I think that's key. In fact, digital is a means that allows you to reach your objectives even more, to be more present, while respecting your DNA. And that, I think, is important. And the third thing I remember is indeed "embark". As you said, I think it's the right word, "get your whole network on board" from the start. So, I think that we have already had a good start to the discussion. You've already said a lot of interesting things. Thank you for that. And there you go. Did you do these workshops? So, if I understood correctly, it was before. It was really to set up the goals and it was before the actual implementation. Is that right?
00:11:04
Dennys Larrieu: Yes, it was done. In fact, there was, to be precise, a first road show that took place in September 2019. And then there was a second road show that took place in February, early March 2020, so just before the first quarantine. And that's... fortunately we had this strategic reflection because it was much more difficult, with the beginning of the crisis, to do all this background work by taking the time to involve all the Jeff players in the process. It was much, much more difficult. Afterwards, once again, the virtue of the crisis is the necessary acceleration, the realization that we have to transform, even revolutionize, the way we work. And that's why we then went on to the actual implementation. And we'll say, between the month of May and the writing of a very detailed roadmap in strategy, in technology, in human embarkation. And we will say the go live that we realized on November 16th. There was a lot of work done, with also an IT architecture that was redesigned to deliver the major objectives we had set for ourselves with this digital.
00:12:31
Gaëlle Helsmoortel: But what is interesting is that you already had the will to transform in 2019. So before, effectively, this gas pedal side is what it allowed you then, maybe, to embark even better your network with you and the different franchisees? Would you say that it was something that helped you or not?
00:13:04
Dennys Larrieu: Are you talking about the crisis Gaëlle?
00:13:05
Gaëlle Helsmoortel: Yes, the Covid crisis
00:13:09
Dennys Larrieu: The crisis, in fact, came somewhere... How shall I put it, it came to materialize the realization that the vision we had shared with the network was the right one. It finally came to over-demonstrate that the consumer evolutions we had shared with them and the different marketing studies we had done. Well, yes, it was really happening and we know one thing, with this crisis, at least the studies that we can read, everyone was forced to accelerate their own maturity in their strategy by about three to four years, and this was very true for the pace. And I think at Jeff's, we actually went beyond the thinking and the vision that we had again. Thank goodness we had that. We accelerated that transformation. We probably gained 3-4 years in the revolution that we had. Afterwards, perhaps .... Yes, Gaëlle?
00:14:22
Gaëlle Helsmoortel: No, no, go ahead, please.
00:14:25
Dennys Larrieu: I wanted to share with you the major objectives that we had set with all the players, Jeff, whether it be in the stores, because that too is very, very important to have in common and it is one of the keys to success. You talked about brands in your introduction. Indeed, the first objective of this digital strategy is to develop the attractiveness and desirability of the brand. And it's very important to understand that digital is the brand's first showcase and that this digital or unified commerce work is there to serve the brand. So that's very important. Especially since we, Jeff de Bruges, beyond being a shop sign, are a brand since we have become a chocolate maker and cocoa grower with the acquisition of plantations in Ecuador and we now go from the bean to the chocolate praline. So, this brand dimension seems fundamental to us. The second thing is to increase our technological capacity and to anticipate the evolution of the consumer. We need to be extremely agile, to have the best possible IT architecture, to think more in terms of consumer behavior than in a purely transactional approach. I think that today, we need to go beyond the transactional dimension and go right up to the customer's behavior. I am thinking in particular about the world of social networks. This is an important point. The third major objective is to capitalize on the stores and to have a digital environment that reinforces the customer experience. This means? In any case, that was our strategy... it's first of all a web to store and we can see it very concretely through the click and collect and courier orders, because out of ten web orders, 6 to 7 orders are directed to the stores. This is important because it demonstrates the added value of the network. And we were talking about the franchisees, it shows them that we are indeed going in the right direction and that they have a real interest in it. And then, the last objective was to reinforce our strong times (Christmas and Easter), but also to increase the frequency of consumer visits to the stores by setting up different animations and by making these animations known through a digital communication and a referencing work also on the Web to emerge.
00:17:09
Gaëlle Helsmoortel: I love the web to store because I think it is so true because we often hear, I think wrongly, that physical stores are finished. Personally, I don't believe that at all. I believe that their idea is, as you do, I dare to say, to make the customer experience in store. Well, people, from time to time, want to order on the web. But from time to time, they also want to go to the store, to feel, to see, to be helped, to be accompanied. So, I think it's extremely smart and important to have implemented this web to store strategy to give customers this experience and to have this beneficial effect on your network and therefore on all your franchisees. Did you accompany them? So, you told us about the two workshops that you had prepared, especially before putting the road map and the concrete implementation in place. But then you had to accompany them in some way in the change? Or was it not necessary? How did you do it?
00:18:30
Dennys Larrieu: It was absolutely necessary. So, we had to start with two road shows and workshops in these road shows. But afterwards, it's a continuous effort and a continuous improvement. So, of course, we need to have a real strike force in terms of training, in terms of coaching and in terms of supporting the teams, whether at the head office or in the network, especially the franchised stores, which are very important to us. And of course, we want them to get a return on their investment and we want them to succeed because if they succeed, Jeff succeeds. So, we pay a lot of attention to the franchisees who are very important to us. So, it's training through webinars, it's training through a digital school that we have and that we created. It's also teams of regional animators that we have also trained and strengthened and who go out to meet with these stores to help them. So, it hasn't always been a walk in the park, because that would be a lie to tell. It has been as exciting as it has been challenging, because it is a transformation that, beyond being marketing and beyond being technological, is a transformation that is human. And we're not all the same, we don't all have the same maturity when it comes to digital. We have different profiles and experiences, so we have to think globally and act locally. And that is very, very important. I'll tell you, we have almost 100% membership, which means that we have 400 franchised stores. We have less than ten that we have to finish convincing, so it's very small. And they've already told us that they've seen the results and that after Easter, the last five-six stores will eventually come on board. So, it's really a success by evidence. It's really a success by demonstration. It's a lot of effort. It's a lot of work, it's a lot of coaching. And it's... I'll tell you, just yesterday, we were with the Digital Steering Committee team at the head office and we were thinking about how we can help the network, and the franchisees in particular, but also our branch stores and our tenant managers to help them become even stronger on digital, it's training. But it's not just about training, it's also about creating working groups, it's also about involving them in strategic thinking. It means setting up tests in certain stores to evaluate the potential and share it with others. Once again, this is not a walk in the park. But for all that, we're moving forward and we're trying to get everyone on board.
00:21:50
Gaëlle Helsmoortel: Listen, this is fantastic and well done! And you know, I don't think there's any real transformation that's done in a walk in a park way. I like the expression, I didn't know it. Thank you for that too, but I think we wouldn't have believed it if you said it was easy. And I think it makes a lot of sense anyway. The important thing is to move forward too, I think. It's about taking one step at a time. And you have paid particular attention to the accompaniment. Apparently, you also demonstrated things a lot, proved things, asked for their opinion. I think that was done. That's fantastic. What were their reactions that you had to deal with? The reactions of your franchisees, were there any more particular ones or what had reactions that you expected? Maybe not in relation to this transformation.
00:22:48
Dennys Larrieu: Let's just say that we need a lot of education to explain that we are going to move from a disconnected network to a connected network and that we are going to move to a unified network where the data will be pooled. Because when you're an independent retailer, and this is quite normal and understandable, there is sometimes apprehension about the fact that, how shall I put it, the customers you have, are going to be pooled in a cloud. And what does it mean to have customers in the cloud? Does it mean that I won't have them anymore? Does it mean I'm going to lose them, that they're going to be taken away from me, etc.? And so, we have to try to provide guarantees and reassurance in this regard. And to show that, on the contrary, not only will the store keep its customers, but it will also recruit new ones, especially through the new Web services. And that, by the way. Here, once again, there is proof that yes, there are new customers coming in, and in particular 25-35 year old customers that we didn't have and that are the biggest part of the recruitment of new customers since if we manage to measure it today, we are able to demonstrate and in fact the best demonstration, I'll tell you, that the stores see when they welcome customers who come for click and collect or who want to benefit from a courier, and they see that these are new customers and sometimes younger customers. So, they see that they are recruiting what they wouldn't have recruited if they had stayed disconnected. And if you weren't unified, that, again, is very real and very critical.
00:24:28
Gaëlle Helsmoortel: Yes, and do you have any priorities for this year, for the continuation of this transformation, or do you have any priorities or is it just, well that's not the right word because it's a lot of work, but it's the continuity. Did you guys...?
00:24:48
Dennys Larrieu: So, there's always the two dimensions, so the run dimension, the continuous improvement dimension. And then the project dimension. There are several projects, but there are three in particular that I would like to share with you, Gaëlle. The first is a project around the relational program. In fact, all this work will allow us to have data. And we need to use this data to offer our customers an even more exceptional experience. At least, we hope so. And that probably means a redesigned relationship program, designed by Jeff de Bruges, which gives our customers, once again, more opportunities to benefit from the Jeff de Bruges chocolate ranges, to participate and to give their opinion. There's something really to think about in terms of the customer relations program. That's one point. The second point is to continue to develop digital communication because we have started a great work and we will continue it on social networks too. All the work on referencing is very interesting and very important. So that's an important axis. And then a third one which is linked to our business intelligence, and in particular to Dgenious, which is in fact access to data. This is new and important for the teams and for the network. That is to say that the interest in doing everything we have done is also that they can access this data, this pooling of data that can better know the key figures concerning their customers, products, sales. And that will help them in their management. It will give them a little more vision and a notion of comparability with perhaps equivalent stores or regions. And that's very interesting. So, it's allowing stores to have access to data, or at least to data that may be of interest to them. And this is done in particular through BI, and in particular the one we have put in our IT sector. Namely Dgenious.
00:27:19
Gaëlle Helsmoortel: Thank you very much, Dennys, but indeed, I am happy. I didn't know that. I guarantee you the listeners. I didn't know that it was in your third point and that it was going to be mentioned.
00:27:27
Dennys Larrieu: Indeed, I confirm that it was not planned, but I wanted to tell it.
00:27:35
Gaëlle Helsmoortel: That's very nice, thank you. And what I also like here, if I may say so in relation to Business Intelligence, is that, for me, you know, data... I also love it with brands, but data, accessibility, and when you say that it will allow you to give access to your whole network, knowing that you have a network, as you said earlier, which was heterogeneous, that is to say with people who did not necessarily have the same experience with digital and data. I think it's also interesting to allow all types of profiles to have this accessibility to data. Thank you for that and maybe also for our listeners who are retail managers, who may be looking at you with envy or looking with envy at what you have, what you have done, and it is something that you would want to tell them if there is advice. Given this whole experience of two, a year and a half, you can almost tell now that you have in relation to that. What would you like to tell them or give them as advice Dennys?
00:28:42
Dennys Larrieu: Listen, I don't know if it's advice, but what I want to say is that we are more than ever in a time of transformation. And we have to be aware of that. I think we need to think deeply about the evolution of the consumer. Today, there is a real search for quality and a search for the service dimension. There is a search for proximity and that is really, really important. And in any case, I am personally attached to it. We all talk a lot about digital, but it's about having digital serve the human dimension and that's why I like to talk about unified commerce beyond digital, it's about keeping this merchant dimension and keeping this human dimension. And that, I think, is very important. After that, I know that this has been very, very essential in this work and it is not yet finished. There are still many things to do. It's to involve the teams as much as possible in the project and to associate them to the reflection, to try to co-construct as much as possible. This is not always easy because there is also a challenge. How do you manage the difficulties that can arise with a large team? It's not always easy to get everyone involved, but even so, if the will is there, it goes through and the network is aware of it. And once again, even if it's not always easy and there are challenges, I think that, and we can see this through the support we have had, which is 100% in fact, everyone is aware that we must move forward and that we must go towards these transformations. We simply have to do it well. You have to do it while realizing that it takes ten years to build your brand and that you have to keep the notion of the customer at the heart of it all. That's fundamental.
00:30:56
Gaëlle Helsmoortel: Listen, thank you very much Dennys, I think we said a lot of things, I'm going to get a lot of feedback from our listeners, so there's a lot of chance that I'm going to ask you to do another episode with you, especially me. The Digital School, that, that spoke to me pretty well. There will definitely be more topics. I'll obviously share in the bio of this episode the Jeff de Bruges website. By the way, I ask everyone to go and follow you on social networks because you really have a very dynamic way of managing this. A very nice website too. So, there you go, thank you very much, Dennys for this exchange and see you soon.
00:31:38
Gaëlle Helsmoortel: Thanks Gaëlle, see you very soon.
00:31:41
Gaëlle Helsmoortel: Thank you all for following this new Dgenious episode, Let's Talk Retail, the full transcript of this interview is now available on our website Dgenious.com in French, but also in English. And I'm also putting the direct link to this transcript in the bio of this episode. I look forward to seeing you in a couple of weeks for a new Dgenious tome and a new Dgenious guest, Let's Talk Retail and until then develop your business. Ciao!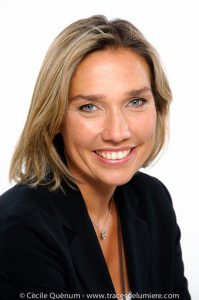 I'm Gaëlle Helsmoortel, CEO of dgenious. I work every day with my team to enable retailers to boost their performance through quick and easy access to their data.
With Let's talk retail, I welcome my guests around specific and varied themes that will offer listeners the opportunity to take action in their own business immediately.
#2 – Why you should adopt a modern, operational and accessible data strategy for your distribution network. , with Yves Colinet
You'll understand why every company needs to seize the digital transformation as soon as possible.
Listen previous podcast
#4 – Use Social Listening to learn about your brand! , with Albane Flamant
For this fourth discussion around modern retail strategies, I'd like to listen to an amazing, brilliant, cutting-edge young woman and branding expert: Albane Flamant.
Listen next podcast